I know how much you all love the hot deals you can score during Black Friday Week – so I'm excited to share with you another chance – before November!

DFRobot online store is getting ready to celebrate it's Five Year Anniversary. How would they do that? But with amazing deals of course. Starting next week of July 8th till 10th, you will be able to score various HOT deals — and even win 3D Printers during the 3-days-sale!

Here is what will be going on.


ANNIVERSARY LOTTERY
Time: July 8th – 10th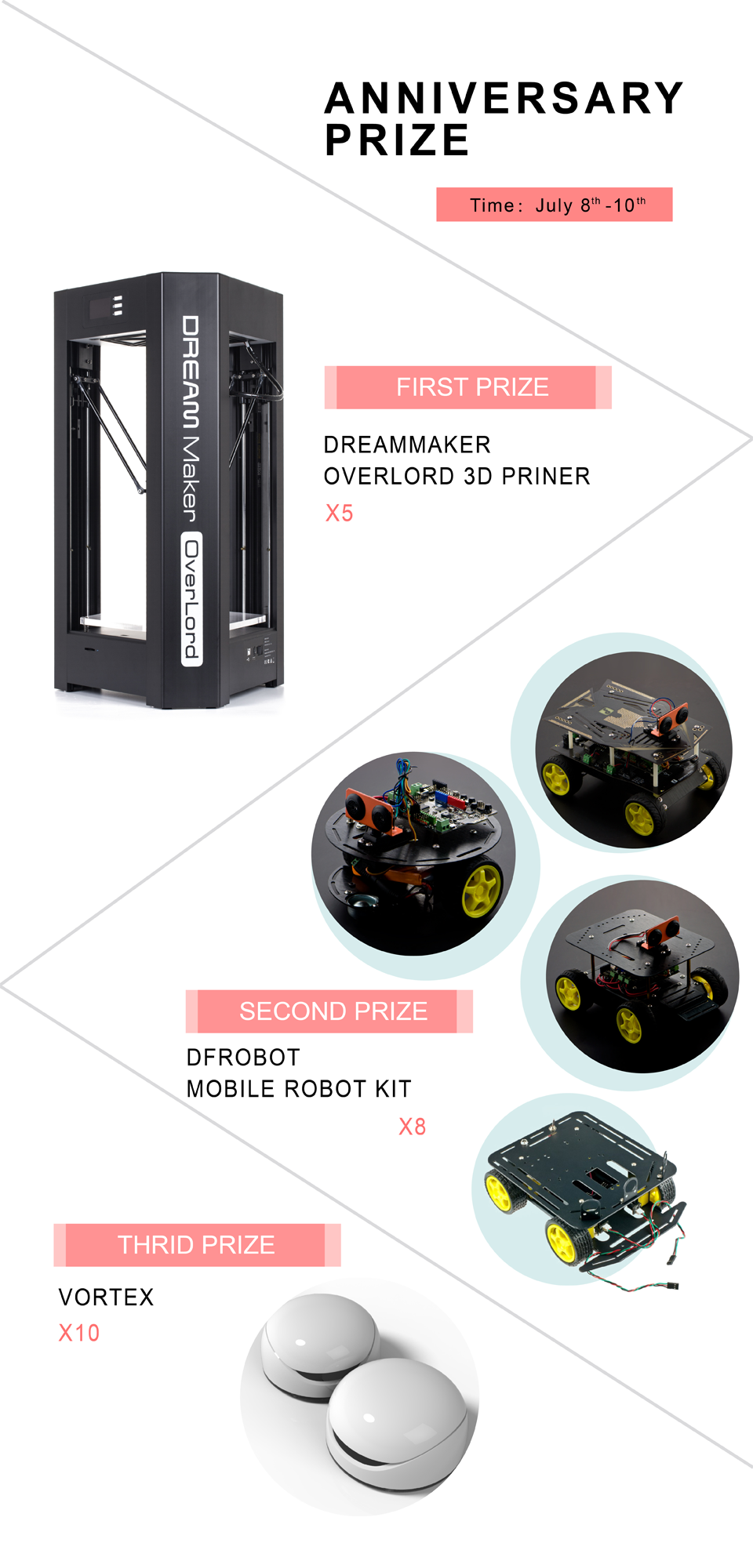 HOW TO PARTICIPATE

Any order made during the Anniversary Sale (July 8th – 10th 2015) is eligible for entering the lottery. Your order number (if multiple the most recent) will be the reference number of your lucky draw entry code. Final results are to be announced on 13th and to be sent to notify all prize winners. Results will be found at https://www.dfrobot.com/blog and DFRobot Youtube channel.

Please note that expenses related with shipping, insurance and customs duty are to be covered by the winner. DFRobot is not responsible for any expense other than the prize.




DAILY FLASH DEALS
Time: July 8th – 10th



Find super good value products everyday during the sale. Products include Raspberry Pi, Bluno Bluetooth microcontroller, Arduino Beginner Kit, and many more!



LUCKY DRAW COUPONS
Time: July 2nd – 31th

Click and test your luck. If lady luck is with you, you get additional cash coupons that can be used during the whole July! Coupons are valid till end of July and can only be applied with orders over $50.

WORLDWIDE FREE SHIPPING
Time: All Time
Orders over $25 - Your order will enjoy free shipping via HKBRAM.

Orders over $150 - Your order will enjoy free shipping via DHL. In most cases, it takes 3-5 working days to arrive.
Exceptions
Orders over 2KG or orders from countries in Zone 9 are not eligible for free DHL shipping due to custom fee. To see a full list of countries in zone 9, click here.

All PCB orders will not enjoy free shipping.

Distributors are not eligible for free shipping.
Alright that's it folks, and I can't wait to check out what's in the store after anniversary sale begins. Save the date and good luck for ya'all!