Note: Raspberry Pi 4 Model B-1GB is discontinued now, we recommend Raspberry Pi 4 Model B-4GB or Raspberry Pi 4 Model B-8GB as a suitable replacement.
Here comes the 4th generation Raspberry Pi model B of the popular
Raspberry Pi
family! Compared to the prior-generation
Raspberry Pi 3 Model B+
, Raspberry Pi 4B offers significantly increases in processor speed, multimedia performance, memory, and connectivity. For the end user, Raspberry Pi 4 Model B provides desktop performance comparable to entry-level x86 PC systems, which could let you enjoy smooth and high-quality experience! Raspberry Pi 4B includes a high-performance 64-bit quad-core processor, and features dual-display support at resolutions up to 4K via a pair of micro-HDMI ports, hardware video decode at up to 4Kp60, up to 4GB of RAM, dual-band 2.4/5.0 GHz wireless LAN, Bluetooth 5.0, Gigabit Ethernet, USB 3.0, and PoE capability (via a separate PoE HAT add-on).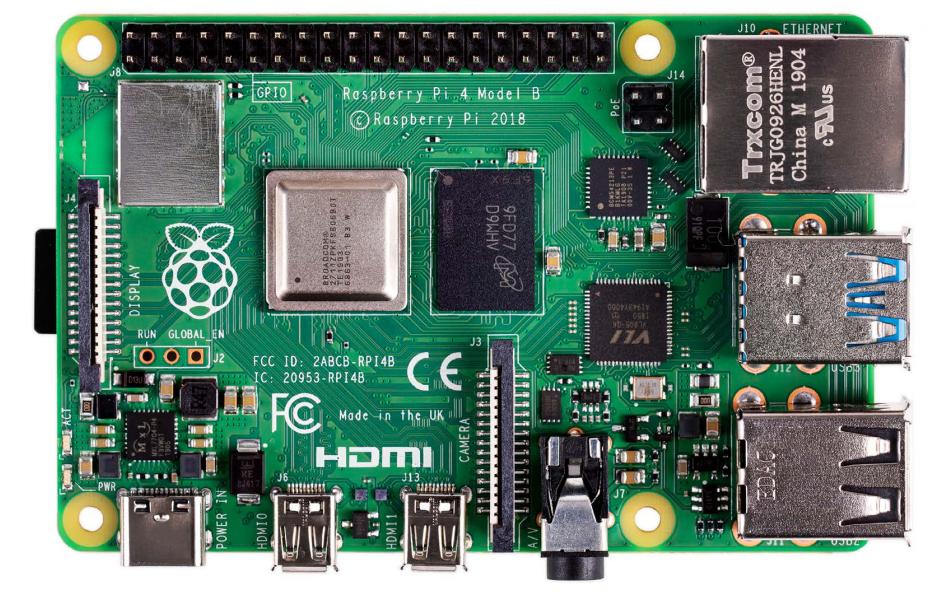 Peripheral Interface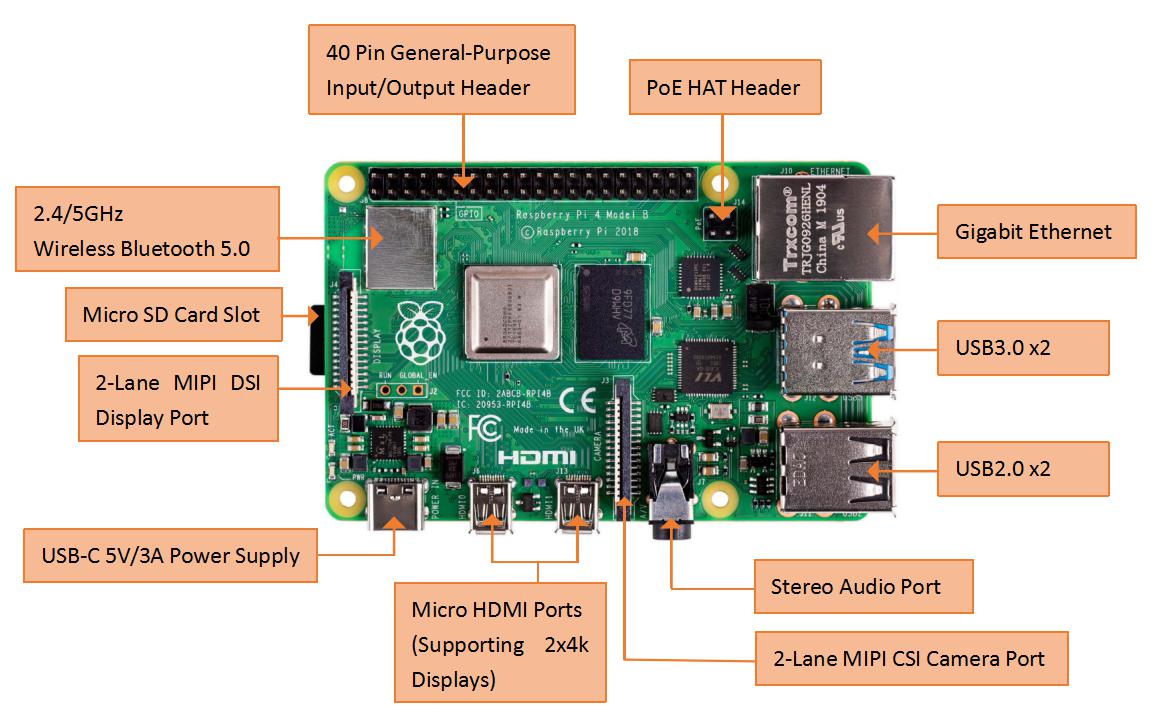 Dimension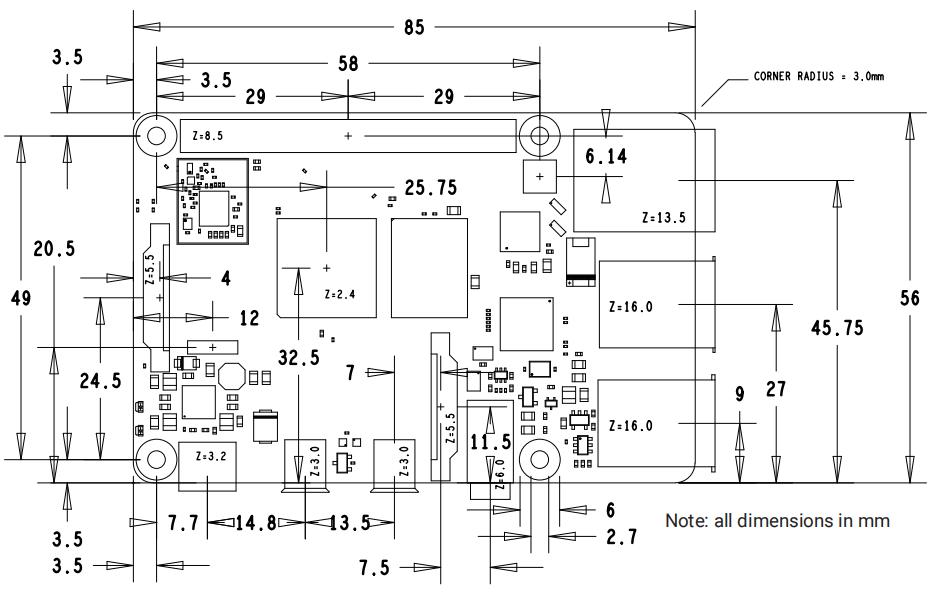 WARNINGS
• This product should only be connected to an external power supply rated at 5V/3A DC or 5.1V/ 3A DC minimum1. Any external power supply used with the Raspberry Pi 4 Model B shall comply with relevant regulations and standards applicable in the country of intended use.
• This product should be operated in a well-ventilated environment and, if used inside a case, the case should not be covered.
• This product should be placed on a stable, flat, non-conductive surface in use and should not be contacted by conductive items.
• The connection of incompatible devices to the GPIO connection may affect compliance and result in damage to the unit and invalidate the warranty.
• All peripherals used with this product should comply with relevant standards for the country of use and be marked accordingly to ensure that safety and performance requirements are met. These articles include but are not limited to keyboards, monitors and mice when used in conjunction with the Raspberry Pi.
• Where peripherals are connected that do not include the cable or connector, the cable or connector must offer adequate insulation and operation in order that the relevant performance and safety requirements are met.
SAFETY INSTRUCTIONS
To avoid malfunction or damage to this product please observe the following:
• Do not expose to water, moisture or place on a conductive surface whilst in operation.
• Do not expose it to heat from any source; Raspberry Pi 4 Model B is designed for reliable operation at normal ambient room temperatures.
• Take care whilst handling to avoid mechanical or electrical damage to the printed circuit board and connectors.
• Avoid handling the printed circuit board whilst it is powered and only handle by the edges to minimise the risk of electrostatic discharge damage.
[Raspberry Pi Board Selection Guide]
Name
Raspberry Pi 4 Model B
(1GB, 2GB, 4GB)
Raspberry Pi 3 Model B+
Raspberry Pi 3 Model B
Raspberry Pi 3 Model A+ (E14)
Raspberry Pi 2 Model B
SKU
DFR0617, DFR0618, DFR0619
DFR0567
DFR0431
DFR0594
DFR0353
Price
$35, $45, $55
$39.95
$39.95
$25
Discontinued
Image

SOC
BCM2711
BCM2837
BCM2837
BCM2837
BCM2836
CPU
1.5GHz, 64 bits
quad-core Cortex A-72
1.4GHz, 64bits
quad-core Cortex A-53
1.2GHz, 64bits
quad-core Cortex A-53
1.4GHz, 64bits
quad-core ARM Cortex-A53
900MHz
quad-core ARM Cortex-A7
SD Card Slot
Micro SD
Micro SD
Micro SD
Micro SD
Micro SD
RAM
1GB, 2GB, 4GB
1GB
1GB
512MB
1GB
GPIO
40-pin
40-pin
40-pin
40-pin
40-pin
GPU
VideoCore IV
VideoCore IV
VideoCore IV
VideoCore IV
VideoCore IV
Max Resolution
4K, 60Hz
1080P30
R1080P30
1080P30
1080P
Video Input
Dual-lane CSI camera port
CSI camera port
CSI camera port
CSI camera port
CSI camera port
Video Output
R2 HDMI ports, dual-lane DSI port
Full-size HDMI
HDMI, DSI port
HDMI, DSI port
HDMI, DSI port
USB Port
2×USB3.0 + 2×USB2.0
4×USB2.0
4×USB2.0
1×USB2.0
4×USB2.0
Ethernet
Gigabit Ethernet
Gigabit Ethernet
100 Mbit Ethernet
None
100 Mbit Ethernet
Wireless Network
802.11ac(2.4/5GHz), Bluetooth 5.0
802.11b/g/n/ac(2.4/5GHz), Bluetooth 4.2
802.11n(2.4GHz) , Bluetooth 4.0
802.11ac(2.4/5GHz), Bluetooth 4.2
None
Charging Port
USB Type-C
micro USB
micro USB
micro USB
micro USB
Power Supply
3A, 5V
2.5A, 5V
2.5A, 5V
2.5A, 5V
1.8A, 5V
Power Via PoE
Supported
Supported
Unsupported
Unsupported
Unsupported
Dimension
88*58*19.5mm/
3.5*2.3*076"
82*56*19.5mm/
3.2*2.3*0.76"
87*58*19mm/
3.43*2.28*0.75"
65*56mm/
2.56*2.20"
87*58*19mm/
3.43*2.28*0.75"
Weight
46g
50g
45g
45g
45g