Note:  NVIDIA Jetson AGX Xavier is discontinued now.
The Jetson AGX Xavier module makes AI-powered autonomous machines possible, running in as little as 10W and delivering up to 32 TOPs. As part of the world's leading AI computing platform, it benefits from NVIDIA's rich set of AI tools and workflows, enabling developers to quickly train and deploy neural networks.
At just 100 x 87 mm, Jetson AGX Xavier offers big workstation performance at 1/10 the size of a workstation. This makes it ideal for autonomous machines like delivery and logistics robots, factory systems, and large industrial UAVs.。
As the world's first computer designed specifically for autonomous machines, Jetson AGX Xavier has the performance to handle visual odometry, sensor fusion, localization and mapping, obstacle detection, and path planning algorithms critical to next-generation robots. Get GPU workstation-class performance with an unparalleled 32 TeraOPS (TOPS) of peak compute and 750 Gbps of high-speed I/O in a compact form factor.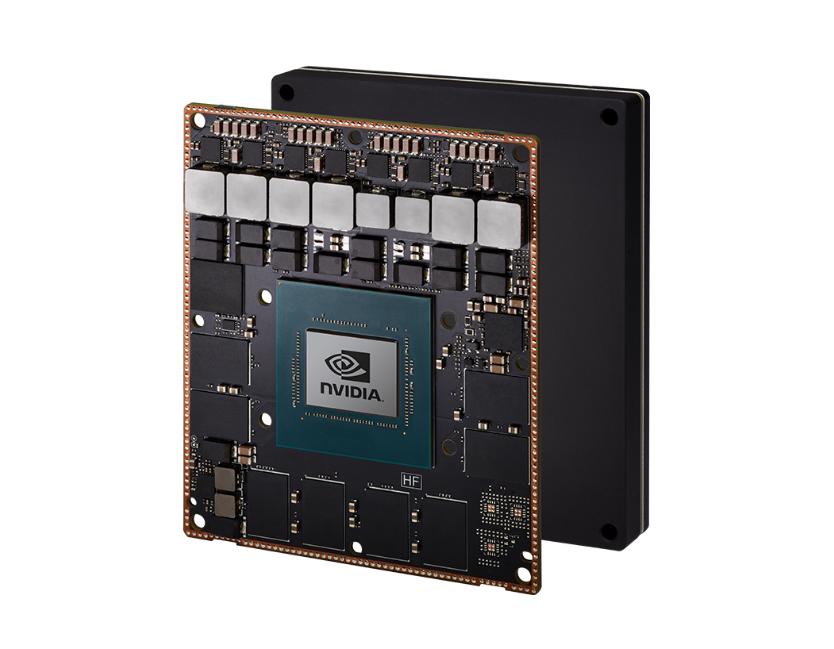 GPU: NVIDIA Volta™ architecture with 512 NVIDIA CUDA cores and 64 Tensor  cores11 TFLOPS (FP16) 22 TOPS (INT8)
DL Accelerator: 5 TFLOPS (FP16)
                              10 TOPS (INT8)
CPU: 8-Core Carmel ARM v8.2 64-Bit CPU, 8 MB L2 + 4 MB L3
Memory: 32 GB 256-Bit LPDDR4x 2133 MHz - 136.5 GB/s
Display: Three multi-mode DP 1.2a/e DP 1.4/HDMI 2.0 a/b
Storage: 32 GB eMMC 5.1
Vision Accelerator: 7-Way VLIW Vision Processor
Video Encode: 4x 4K @ 60 (HEVC)
                             8x 4K @ 30 (HEVC)
16x 1080p @ 60 (HEVC)
32x 1080p @ 30 (HEVC)
Video Decode: 2x 8K @ 30 (HEVC)
6x 4K @ 60 (HEVC)
12x 4K @ 30 (HEVC)
26x 1080p @ 60 (HEVC)
52x 1080p @ 30 (HEVC)
30x 1080p @ 30 (H.264)
Camera: 16 lanes MIPI CSI-2, 8 lanes SLVS-EC 
D-PHY (40 Gbps), C-PHY(109 Gbps)
UPHY: (8x) PCIe Gen4 / (8x) SLVS-EC
                  (3x) USB 3.1
                  Single Lane UFS
Other: UART, SPI, CAN, I2C, I2S, DMIC, GPIOs
Connectivity: Wi-Fi requires external chip
10/100/1000 RGMII
Gigabit Ethernet
Size: 87 mm x 100 mm
Mechanical: 699 pin Molex Mirror Mex Connector
Integrated Thermal Transfer Plate