As is with the recent trends in the SBC industry, you may have recently seen that LattePanda has released two, brand-new premium development boards called the LattePanda Alpha and Delta! Actually, technologies have been developing to cope up with new applications such as Artificial Intelligence and Google DeepMind's AlphaGo. Actually, products with the Alpha tag are premium by nature and application; look at Sony's α-series cameras, including α9, α6500. All these are top of the line products that take consumer needs very seriously and the Alpha Panda is no exception to that rule, these products are the best you can get today in the SBC market. We shall discuss new features on the new Alpha and Delta and how they can benefit yours.
Features/Products
First, the key Specs:
Features / Products
LattePanda
LattePanda Delta
LattePanda Alpha
CPU
Intel Atom x5-z8350
Intel Celeron N4100
Intel Core-m3 8100y
Benchmarks PassMark
1301
2000+
3539
GPU

Intel HD Grapics

200-500MHz

Intel UHD Graphics 600

200-700MHz

Supports eGPU

Intel UHD Graphics 615

300-900MHz




OS
Windows 10 Home

Windows 10 Pro

Linux

Windows 10 Pro

Linux
CPU-wise, as you can see, the Alpha and Delta are at least 2 feature-levels ahead of the original LattePanda. To put this into quick perspective, lets suppose the original LattePanda was the BMW X1. Product line-up wise then, the Delta would be an X3 and the Alpha an X5 in terms of performance and features! We have uploaded several demo testing videos, check more on http://kck.st/2DMyper
There is a wide variety of CPU's on the market today, ranging from quad-core to octa-core to even 16-cores! However, performance is not directly co-related to CPU core-count or clock speed, rather a lot of things matter. Within the same generation of CPU's technology can differ greatly such as architecture, hype-threading and turbo boosting. To make better sense of this, and to provide a better reference to everyone, PassMark's CPU Benchmarks gives scores to CPU's. These scores accurately give an initial impression on how a CPU will perform in daily tasks.
Alpha and Delta have not only been updated on their main clock speed frequency, but have also seen significant GPU performance gains thanks to Intel's integrated solutions. This is a deliberate effort on the LattePanda's efforts to be squarely aimed for projects involving robot vision, artificial intelligence, IoT Edge devices and interactive Art, etc. These graphical capabilities optimizes scenes such as image processing, visualization and animation display, to provide a more imaginative space for makers and developers alike.
What is a major highlight in the SBC market is the support of external- Graphics Processing Units, or eGPUs. Alpha and Delta both support full-sized graphics cards via its M.2 interface to maximize its expansibility. Though some details have not been fully released, a device almost two-thirds the size of a phone with PC-class performance will give rise to unique new, visually stimulating projects. New embedded scenarios, mobile robot development platforms, or portable VR or MR projects? All seem like viable ideas!
Lets take a look at the design and detailed Specs:

Personally, I think in terms of design, Alpha and Delta can be said to be the leading devices in the industry with so many detailed features geared towards developers. Just looking at the picture above, you can see the iteration of a new product on the basis of an industrial-design while retaining some of the ever-green features and adjusting aesthetics for a finished look.
The product has never been used commercially before so the experience is yet to be known, but from a visual point of view, it looks compact and has a Transformer-look to it! Official press releases have shown a full-featured USB Type-C port and ships with standard power adapters to avoid last-generation issues.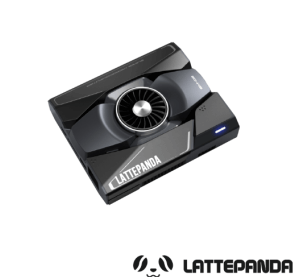 Desktop-class LattePanda shell
To our delight, Alpha and Delta are designed with two exquisite official housings for both desktop and tablet modes.
Other specifications comparison


The new LattePanda's are slightly larger than the previous ones, but have so many new features packed for the small increase in size; RAM has been doubled, storage can now be tripled with NVMe SSD's and there is even a Dual-Band Wi-Fi card on-board. The most noteworthy addition though is the USB 3.0 / Type-C / M.2 high-speed interface enhancements coming to the board. These make as much an improvement on performance as the CPU itself does. Alpha and Delta belong to one of the few products that accommodate these new features not found in these lower-end SBCs while staying the same size.
M.2 M-K can not only expand the common NVMe SSD, accelerate system read and write response speeds, but because of its built-in PCI-e x4 bus, it is compatible with a large number of peripherals, such as graphics, 3/4G Wireless LAN, dual Gigabit LAN, HD sound card and so on.
More GPIOs can be seen on the Alpha and Delta, in fact they are dual 50-pin connectors with an ample range of protocols they can be operated on which should strengthen its embedded-projects value and have further application in various other scenarios.
Overall, we think the LattePanda Alpha and Delta are for the advanced users; these two products are still at their crowdfunding stage. According to LattePanda team, the Kickstarter price may be 80% of its retail price later on. Alpha and Delta prices start at $ 129. Friends interested in more details of the product can pass this portal to learn more: http://kck.st/2DMyper