Freematics ONE (aka Freematics Vehicle Data Logger V4) is the state-of-the-art vehicle telematics data collector, adapter, logger and transmitter which envolves from the past 3 generations of Freematics Vehicle Data Logger.
Freematics ONE, like its predecessors, comes in the form of a OBD-II dongle which plugs into a car's OBD-II port. The enclosure is newly designed with sockets and card slots for various purposes around it. And the original 32-bit OBD-II solution has been improved, which has been proven in the previous OBD-II products, with better support for high data rate GPS and additional support for external wireless modules. It also integrats the innovative
Bluno (An Arduino Bluetooth 4.0 (BLE) Board)
  which allows firmware/sketch updating directly from Arduino IDE via micro USB port and wirelessly via BLE.
Freematics ONE supports BLE, GPS and xbee socket, you could choose the compatible accessories you need on the right options.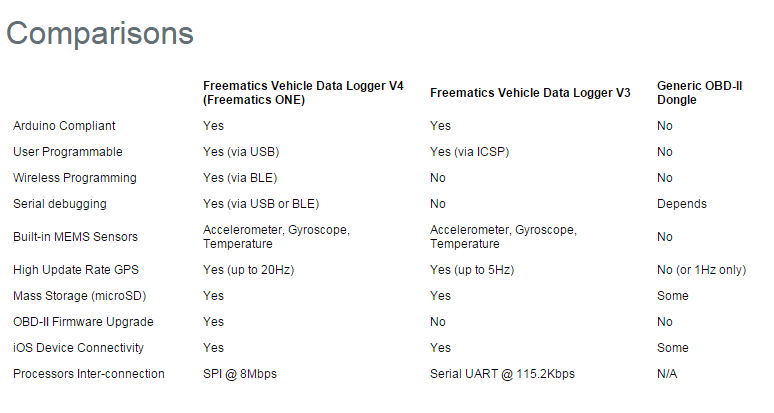 Freematics ONE plugs into the OBD port usually located under the steering column or slightly to the left of it. To check if your vehicle is OBD-II certified, open your hood and find the sticker that looks like this: