Vortex , a
programmable robot
designed for kids. Vortex is based on Arduino which allow it compatible with most Arduino programming language such as Arduino IDE. If you are not familiar with Arduino, we have a visual programming APP named "WhenDo" to get started with. Vortex has 32 eye expressions and unlimited light effects, it has build-in mp3 player and allow you upload your own voice and mp3 files. Customize a vortex with personal eyes expressions and appearance is done by your mobile phone.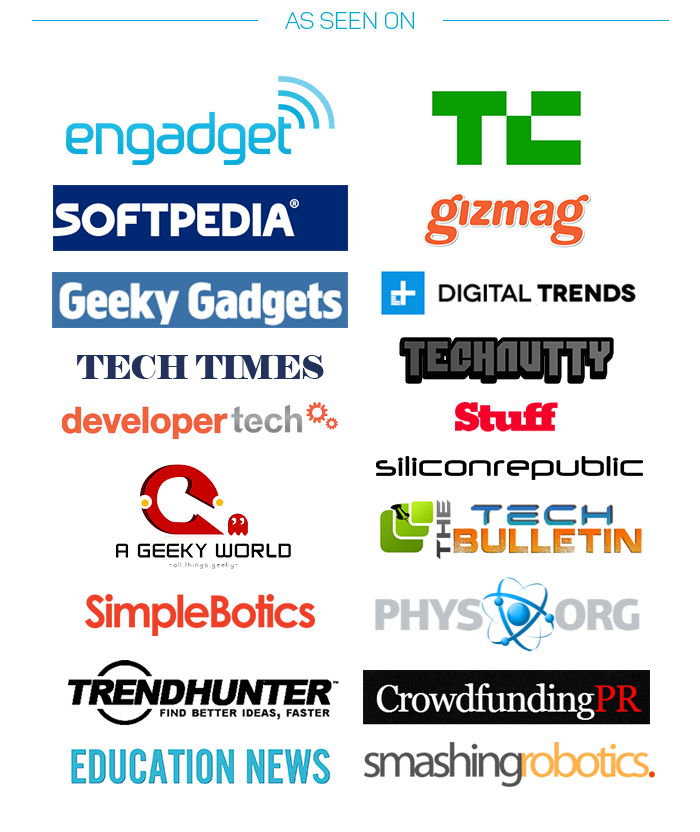 Vortex is a revolutionary product for kids. It is a smart and responsive robot that kids can play with and program. Using the Vortex and apps, kids can play different games, learn about robotics, and even create their own.  
Take Vortex out of the box, pair it to smartphones (iOS & Android) via Bluetooth, and it is ready to run. The inbuilt computer and sensors keeps Vortex moving around, letting you maneuver it by simply tapping the screen, and interacting with various commands and game objects. Vortex features four pre-installed games: Bumping Fight; Virtual Golf, Driving, and Robot Soccer, all designed to be fun and intuitive to play. You can play against other people or the AI.  
Two or more robots compete in a head-to-head match following the basic rules of traditional sumo matches. Each Vortex will keep rotating and dart forward when button is pressed. The sole purpose is a pushing match between players to force others out of the arena, and the last one who stays in the arena will be the winner. The fun really begins in the chaos mode where players can choose to fight in alliance or solo.  
Do you want to practice golf with a robot? This application provides a user interface to play and record your shots during your practice as if you were in a golf course. Change golf clubs by hitting according to instructions. You can see your hits simultaneously with Vortex as the moving ball. At the end of the game, players are awarded points based on performance, and they can share and compete with other players.  
Turn your home into Daytona, Silverstone, or even Dakar Rally. Driving features a continuously expanding tracks, 4 uniquely tuned Vortex racers, and over 50 props. Instead of stimulating driving experience in the software, this game comes with Real-Time Sensing, Time Trials, Ghost Challenges, and innovative Augmented Reality technology, allowing you to race anyone, anytime, anywhere.  
Take part in the most immersive robot soccer game and show that you are the best on the pitch. Team up with your friends, take control of your robot player and defend the goal. Starting with a rookie, you'll need to improve your handling and tactics and to compete against others for the championship. The game can be played with 2 to 22 players at the same time.  
We believe kids can benefit a lot from robotics, in identifying their own challenges, learning how stuff works, solving new problems, motivating themselves to complete a project, working together, inspiring others, and sharing with others. That's why we created Vortex to be more than just a toy.  
Vortex is open-source. It is compatible with Arduino. It can see and speak by using infrared, grayscale and sound speakers. Vortex can find its way around obstacles, detect lines, and report to you.  
Vortex is programmable, and to do it you only need an iPad. Creating a dodgeball game is as simple as dragging and dropping couple of function modules into a visual workspace and tapping upload. Vortex also comes with pre-set courses that teach how to make use of its built-in capabilities, such as recognizing hand gestures, navigating around obstacles and avoiding drop-offs.  
Note: For now, Whendo supports iOS ONLY. 
A robot, powered by Arduino
A game
A piece of moving music  
A puppet show  
A tank  
A vacuum cleaner  
A moving camera  
A dog feeder/annoyer  
Pretty much anything else, because Vortex is open source!  
1. Play engaging games anytime, anywhere  
2. Be creative and invent: Vortex is completely open source, modify it in any way you like
3. Simple steps, graphical programming, and instant play  
4. Personalize your robot: You decide what your Vortex will look like  
5. Sleek, cute, harmless: a perfect gift for your loved ones