This product works as a vehicle
OBD-II
data bridge for Arduino, providing OBD-II data access with
Arduino library
as well as power supply (converted and regulated from OBD-II port) for Arduino and its attached devices.
The adapter plugs into the OBD port usually located under the steering column or slightly to the left of it. To check if your vehicle is OBD-II certified, open your hood and find the sticker that looks like this: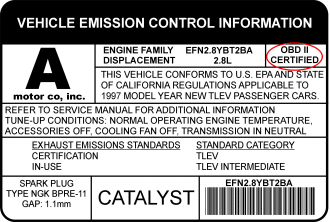 Vehicles using following vehicle protocols are supported.
CAN 500Kbps/11bit
CAN 250Kbps/11bit
CAN 500Kbps/29bit
CAN 250Kbps/29bit
KWP2000 Fast
KWP2000 5Kbps
The OBD-II Adapter is compatible with Arduino models including Arduino UNO, Arduino Leonardo, Arduino Micro, Arduino Nano, Arduino Mini, Arduino Pro Mini, Arduino MEGA 1280/2560/ADK.
Please note that the 500mA/2.5W version is for cars with 12V battery (that is the case with most passenger cars).  For 24V battery, please check the
adapter MK2
.