In this article, we delve into the strategic application of "Python Libraries" - RPi.GPIO and PinPong, effectively manipulating the "Raspberry Pi GPIO" and "Raspberry Pi I2C" of the "Raspberry Pi". Providing step-by-step instructions and detailed Python codes, this guide empowers readers to utilize these two libraries for various programming tasks on the Raspberry Pi. Whether you're new to Python or an experienced developer, the insights and practices shared here will illuminate the effective use of "Python Libraries" for managing "Raspberry Pi GPIO" and "Raspberry Pi I2C". With these tools at your disposal, you will be well-equipped to fully harness the power of Python in your exploration of the vast microcomputer world that Raspberry Pi offers.
Python is an exceptionally potent language, and should you harbor the desire to embark upon the journey of learning Python, an abundance of invaluable resources can be found strewn across the vast expanse of the internet. Among them, one can effortlessly procure a wealth of videos, tutorials, documents, and developer guides.
Upon perusal of the most current chronicle of programming language rankings, one would discern Python resplendently reigning supreme at the forefront.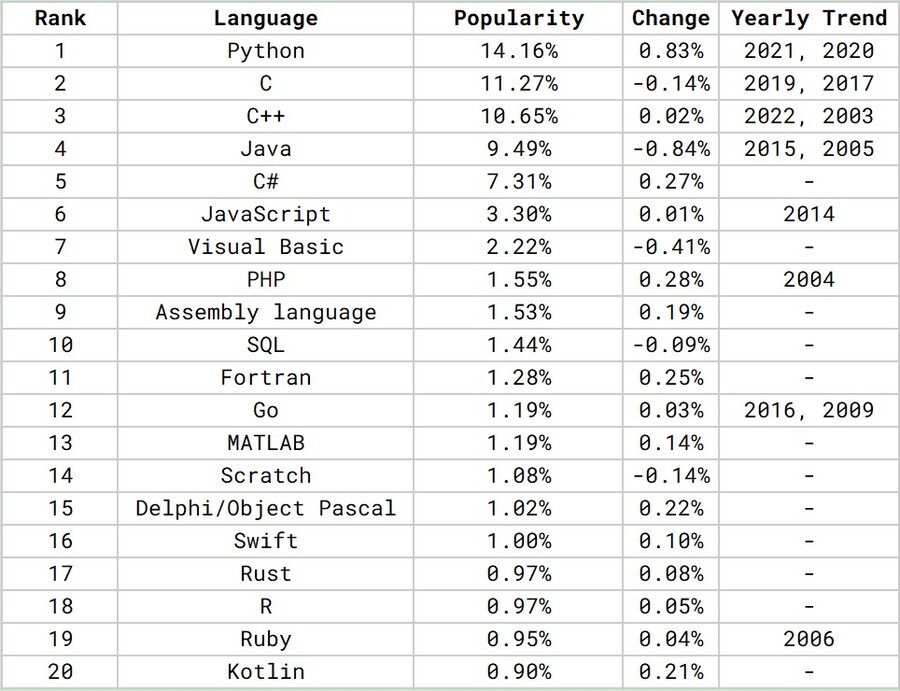 Origin: https://hellogithub.com/report/tiobe/
Why has the Python language garnered such widespread adoration? Enriching oneself with Python yields the capacity for manifold accomplishments:
1.Python proves exceedingly advantageous for crafting server-side code, for it bestows a manifold array of libraries replete with preexisting intricate backend functions.
2.Python scripts find ubiquitous employment among programmers, who harness them to automize a myriad of daily tasks, such as the batch conversion of files into alternative formats.
3.Within the realm of AI and machine learning, Python serves as the tool of choice for data scientists embarking on a plethora of data-driven endeavors, including the rectification and eradication of flawed information, commonly referred to as data cleansing.
4.Software developers frequently employ Python for a diverse range of development assignments and software applications, availing themselves of graphical user interface (GUI) libraries to usher forth desktop applications.
However, one may ascertain that Python predominantly finds its purpose in software development, data manipulation, and the like. Consequently, when endeavoring to amalgamate the realms of physicality and innovation in the pursuit of maker-esque projects, one might discern a dearth of information and Python libraries tailored to suit such endeavors. Therefore, in the ensuing discourse, as a maker at heart, our focus shall center upon expeditiously fabricating maker projects utilizing the bedrock of the Python language.
1. Implementing Blink with basic GPIO control of Raspberry Pi using Python
Firstly, we opt for Raspberry Pi as the hardware capable of running Python, utilizing various Python hardware control libraries to achieve the desired Blink effect.
Preparation of required software and hardware for the project:
Hardware device: Raspberry Pi
System environment: Linux system installed and Python IDLE functioning smoothly
Hardware connection diagram:
Connect the positive terminal of the LED to pin 7 (GPIO4), and connect the negative terminal to a resistor linked to the ground pin.
Figure: Hardware diagram of the Blink project
Blink project on the Raspberry Pi using the RPi.GPIO library
When it comes to controlling GPIO on the Raspberry Pi to achieve the Blink project, for makers who have dabbled with Raspberry Pi, nothing is more familiar than the RPi.GPIO library. This remarkable library enables you to craft Python programs that exert command over the GPIO pins of the Raspberry Pi. Among the various libraries available, such as pigpio and gpiozero, RPi.GPIO stands out as the most prevalent and refined one in use. Leveraging the kernel of the Linux operating system, we can manipulate GPIO by directly interfacing with files through Python.
RPi.GPIO:https://pypi.org/project/RPi.GPIO/#description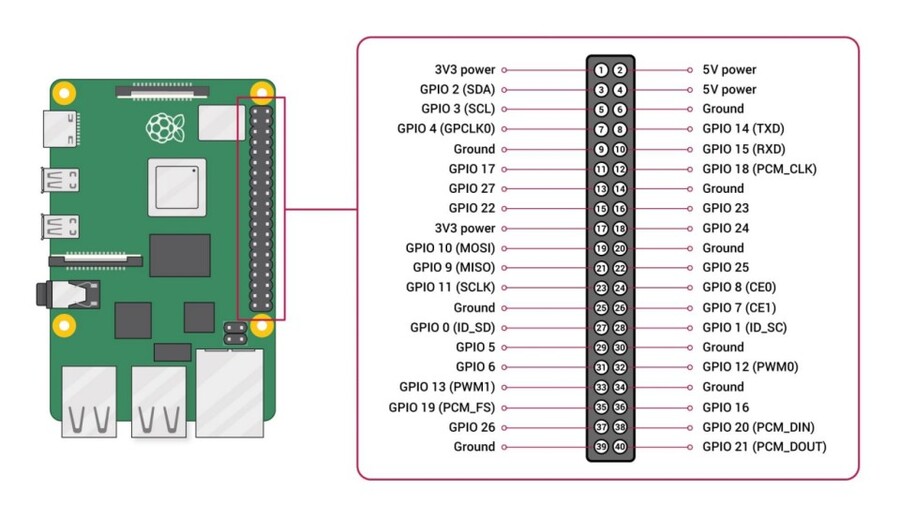 Figure: Raspberry Pi Pin Definition Chart
Raspberry Pi RPi.GPIO Code