Remember
Veyron Servo Driver (24 Channel)
, it's a multiple servo controller especially designed for humanoid robots, spider robots, robotic arms, and many other likewise applications. It's been a while after its debut, and now we have this awesome project with Veyron24 came from
Gareth
, who is also an active member of world's biggest online community of robotics - Letsmakerobots. More update on
LMR's original page
.
Veyron24 with Full Plastic Carrosserie ( Version Glowey HexPod )
By Gareth
We all know that the "Veyron" is a super cool Bugatti Automobile..... until now....
What I present here is the Veyron24 complete with Full Plastic Carrosserie.
Lumi gave a heads up that over at dfrobots a number of these freshly painted Servo Controllers were rolling off the production line and in need of "Running in", no guesses, I just jumped at the chance as I had to "Pimp My Ride"
As with all cars and 24servo thingies a good engine is required and this servo controller will be sitting under my bonnet, just as soon as it speeds its way over the border and through the Swiss alps.......
Lap1 :-
I have designed robotic grippers before using multiple servos ... now the challenge was to turn this upside-down to act as creepy legs. This was just a first Proof of concept to check for clearances and thickness of plastic.
The above design is very strong .... however It needed a bit more creepiness.
Lap2 :-
With a bit of Blender Proportional Editing the Spikes and curve were tweeked.
And a test print to check ...... Spikes could do with more creepiness...
Lap 3 :-
Time to work on the next segment... nothing fancy (yet) just time to get the fit right (there is a lot of close fitting parts to marry together.
A quick servo test confirmed that "its mostly dangerous"
Lap 4:-
Time to go Really spiky ... now we have oil in the works.......
Quick test of bits together and a key in the ignition system to do servo run.
Update 20140715 :- Two legs and SwissCheese base possibilities...
Second leg has been "iterated" .... tweeks etcetc more spikes etc ... and a chance to make a prelimary chassis.
After printing the chassis I can see a way i can make it more universal..ie being able to move the spacing of the legs after to suit leg gait etcetc... as i have no clue as to the best leg clearance.
Update 20140716 : - Lobster Red leg awaits a servo Implant....... (Promblemo - have to rob servos off another project as Servo order is also "On the ROad".... )


Update 20140717 :- Synchronised carburettors .... see Video Part II ... and testing the New STL viewer (see below)
Update 20140717 22:00hr - Shaolin Monk single thumb presses Video Part III....
This was a test just to check that the MG90S Servos where up to the job in hand ... watch the video to find out :-)
Update 20140725 19:19hr - Veyron slips through customs.
Man that was much to quick.... arrived back from short break to be greeted by the Veyron Servo Controller.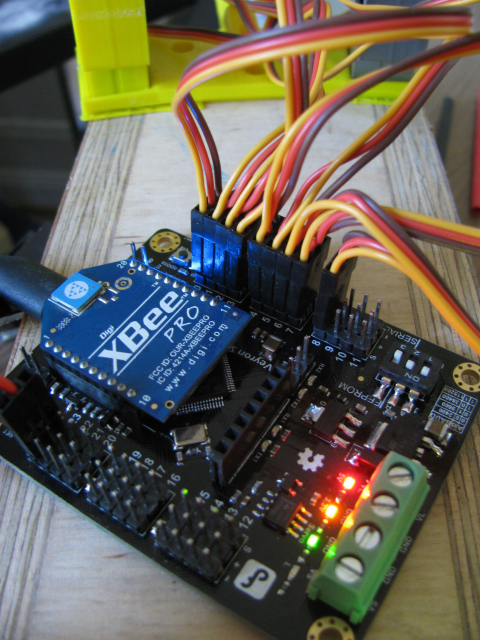 First Impression of the Veyron servo board.... Very flexible , easy to set up , dip sx for baud rate (YAY) , native xbee slot , screw terminals for the power stuff (although my Ubec was designed to plug direct into a spare servo connector), extra tapping points for 3.3V, 5V .... and even a dip sx to select an eprom if you would wish to delve deeper into the onboard arm chip (the chip itself has 2 adc inputs which i will try and trace to see if they are usable)
So far only tested 3 legs....and it works well .. no issues with Ubec ...so cool runnings....time to print some more. (and a spare for the boot)

Update 20140727 :- Servo controller gets a testing :-
Here you can see me controlling 12 servos using the Visual Servo Controller supplied with the Veyron board.
Its dead easy to use and you can quickly set up patterns like you see above which is the sequence I used in the Quadpod video above.
You simply :-
Drag a servo tab onto the time line

Adjust the width to desired servo speed

Assign a servo to that tab

Set the start angle.

Set the end angle

Press play
As the Veron software sends its data over a serial link its possible to plug either an XBee (as I did) into the Veyron board or an APC220 comms link.




Author: Gareth, an member of world's biggest online community of robotics - Letsmakerobots. More update on LMR's original page.