Introduction
Note: Lead time of this product is unknown, sorry for the inconvenience.
Remind: 1. This is a set of multiple product combinations, each product with independent packaging and delivery.
2. Batteries are not included.
3. The micro:bit board in this kit is micro:bit v1.5.
Here comes Maqueen – micro:bit educational programming robot platform
Maqueen is an easy-to-use micro:bit programming robot for STEAM education, which inherits the playability and simple operation of micro:bit. With a mini body, play-and-play, it allows students to quickly learn graphical programming in an entertaining way while nurturing their interests in science and logical thinking.

Suggest Age: 8 +

Maqueen is accessible to Mind+ Programming platform now. Mind+ is a graphical programming platform from DFRobot, supporting Python, Arduino, and other programming platforms. At present, Mind+ has been applied to all kinds of sensors, modules, and related educational products.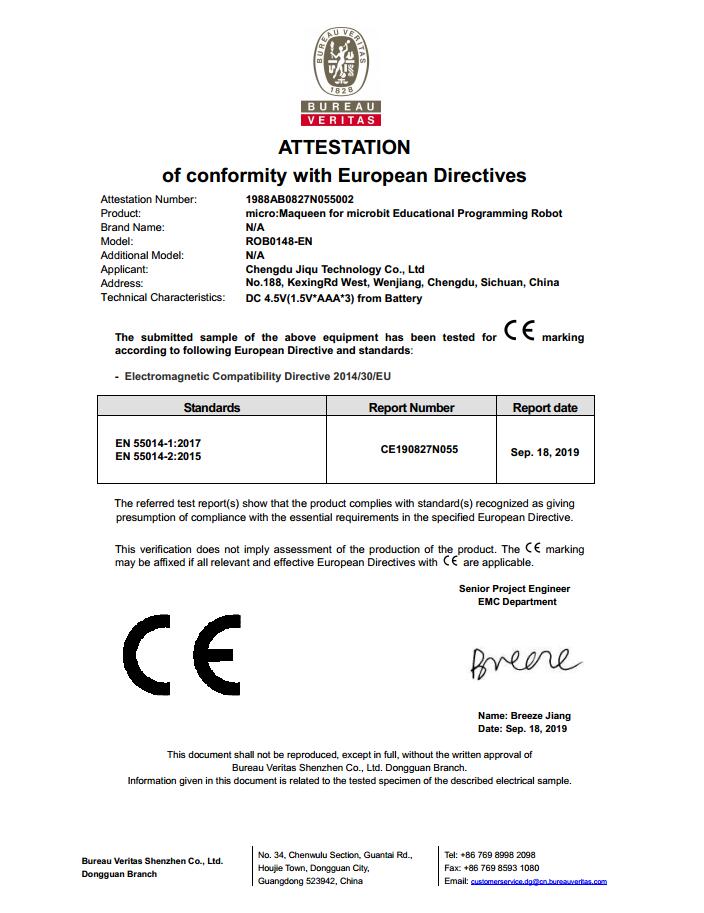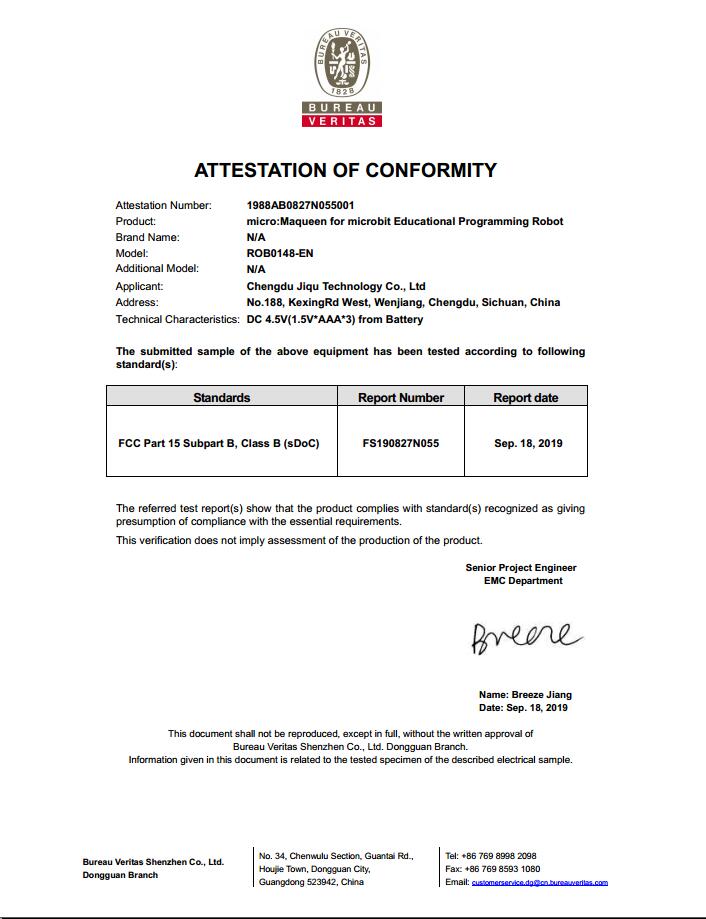 Certificate of ROB0148
Click here to get more playing video of Micro: Maqueen
Features
Support for Makecode, will support Scratch and python later.
Small size, flexible movement.
All-metal miniature gear motor, good quality, strong driving force.
Line patrol, ambient light, LED lights, ultrasonic interface, buzzer, I2C interface, mechanical expansion screw hole, etc. ... full-featured, highly expandable.
Exclusive customized POM bearing wheel, flexible and reliable, strong obstacle crossing ability.
Easy to install, easy to use.
Specification
Supply Voltage: 3.5V~5V DC ( Three AAA batteries or 3.6V~3.7V lithium battery )
Infrared Grayscale Sensor(High-low level) x 2
Buzzer x 1
Infrared Receiver (NEC decoder) x 1
LED Lights (High-low level control) x 2
RGB Ambient Light (16 million colors) x 4
SR04, SR04P Ultrasonic Interface(5V) x 1
I2C Interface (3.3V) x 1
Gravity Extension Interfaces (P1, P2) x 2
N20 All-metal Gear Motor x 2
Motor Reduction Ratio: 1:150
Maximum Rotate Speed: 133 rpm
Motor Drive Mode: PWM motor drive
Bracket and Protective Cover Extension M3 Screw Hole x 6
Programming Method: Makecode graphical programming, Mind+ graphical programming
Dimension: 81mm x 85 mm x 44mm/3.19 x 3.35 x 1.73in
Weight: 75.55g
Projects
Documents
Shipping List
micro:Maqueen micro:bit Educational Programming Robot Platform *1
micro:bit V1.5 - an Educational Creative Tool for Kids *1 (random color)
Flat Noodle Micro USB Cable 1.2m *1