I found the BBC micro:bit and the Foundation while I was wandering about the STEM Villiage area in BETT show 2017. Simply as they are in the same area of our booth.

Before then, the story of micro:bit has already been wildly known in the maker community here in China. It targets to give out 1 million devices to encourage the next generation to code, create and feel the technology at an early stage of their life. To see it with your own eyes and feel the vibe of playing with the actual gadget is totally another thing.


The only microbit that we were able to bring back to the hotel room was so welcomed by our engineers that a real "maker kid" like me would have a great deal of trouble in getting my hands on trying it out. "Wow the experience of getting started is really easy and hassle free." "You can totally feel the efforts made by its developers." "With this low price and joyful experience it would surely become a blast in classrooms…And of course the ones who always hesitate to play with coding and electronics, just like you;)" Well, yeah, that's me. Though being in DFRobot, a maker company that comes with 1000 electronic products, for over 2 years, I have always feared to even plug the power and light up an LED on a single Arduino board…The wires, the codes, the sensors…I just, can't.



That night, with the help of micro:bit and encouragement from our engineer, I stepped out to awaken my creativity and curiosity towards technology. "This is awesome!" "HAHAAA, see what I create on the LED display !!" I couldn't have ever imagined that getting to play with a device that requires coding could be that smooth and easy, and…This moment has kept me waiting for too long.

I wouldn't dare to say that night changed my life, or the world would have another super women of technology, but it surely did change the old stereotyped view of "Tech is complex and mysterious, not us with a law/finance background would ever make it work." That's why I would love to be the bridge of bring micro:bit to China and gather all the friends in helping us achieving that ASAP.

In China, the Maker Education has been rocketing in the past two years. This new way of learning or teaching is softly and gradually changing the traditional way of education in China. Who would play the most important part in this revolution? The government? The schools? The technology? The devices?

Teachers, is the answer in my mind. They are the key and footstone in this movement. Teachers, who have already been struggling to dispel their strangeness in new teaching tools and methodologies, shoulder the mission to bring such inspiration to the classrooms. A good device for teaching, is not just for children, but also for those grown-ups, thriving to find ways to make or swing with technology but keeping on failing because they are simply…confused and lost in the great deep ocean of all the new information.

Personally, I may have way pasted the age to have the privilege to accompany and being coached by teachers in a classroom. If someone like me could step across that boarder, so could all the other grown-ups, teachers, parents.

After years of professional business training or practicing, I have almost lost my ability to build, to make or learn by doing so. Perhaps I was just being lazy or afraid. Being honest, if not the DF Online Maker Community has crowned me with the title of "micro:bit ambassador ", which is not only an honor but also a responsibility, I would be lazy enough to get hold of a keyboard even to tell this story.


[Rachel Zhang (Zenghui Zhang) and Philip Meitiner, Head of International Programs, micro:bit Foundation]

That's right, sometimes we are just lazy and fear to make the change … or perhaps we just haven't met the right device …Or the encouragement from an engineer, a teacher ;) which you would find a huge group of them in DFRobot Online Chinese Maker Community.

"Don't let fear stand in the way of your dreams". Like the following impressive project, made by a teacher in a rural area teacher Hu Jiayou, who is an active member in the Community, has shown great resilience in bring micro:bit to a different teaching environment.

When I was in BETT, I was lucky enough to be able to talk to the Micro:bit foundation. They have delivered a very impressive message to me, that the Micro:bit foundation, their one and only mission is to get micro:bit to as many children as possible, to let them touch and feel the joy of learning digital, and to expand their vision to be able to have different future at very early stage. That actually brought me into thinking that the education in China is quite different from the coast area to the rural area. Even in a city like Shanghai, only the kid form very well educated family will have chance to access the maker culture or education.

With micro:bit, a such easy to use device, we would able to let the students form vast rural areas can also benefit from the scientific and technological progress. That is also the reason why we devoting our effort to organize this DF maker community and micro: bit hardware drifting activity, to get more students and teachers in rural area to know and use BBC micro: bit to enpower their creation. Let them see how the technology is evolving nowadays and how they can contribute their knowledge and perspective into the future.

One of the teacher are located in China rural areas and their English is not that good with the existing English coding interface, but he still manage to build up a line following car with very simple tools.

As a teacher in rural area, our conditions are very hard. The county, has no idea about STEM education, not to mention support . All devices we need are at my own expense. However, thank school for offering a room that students are more convenient to do technological activities. This is my maker space.




I really appreciate for this free trial, this opportunity was given by DFRobot, that I can play Micro:bit with my students.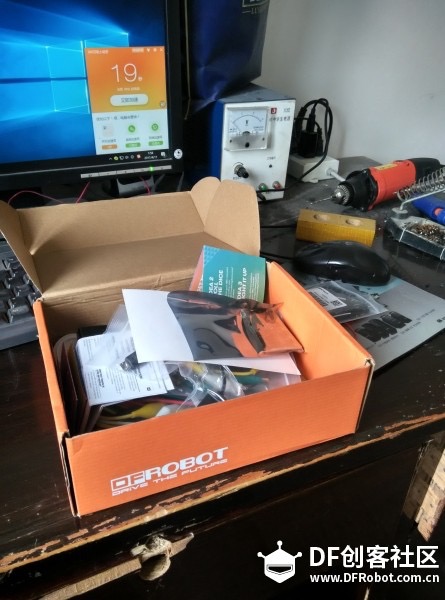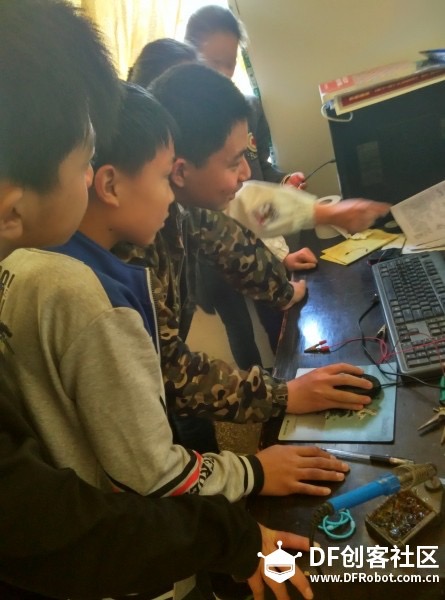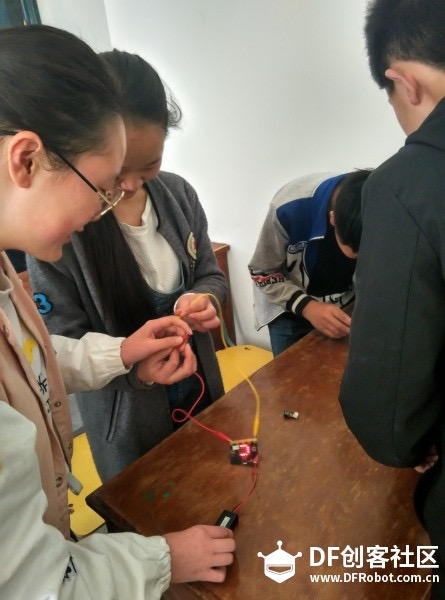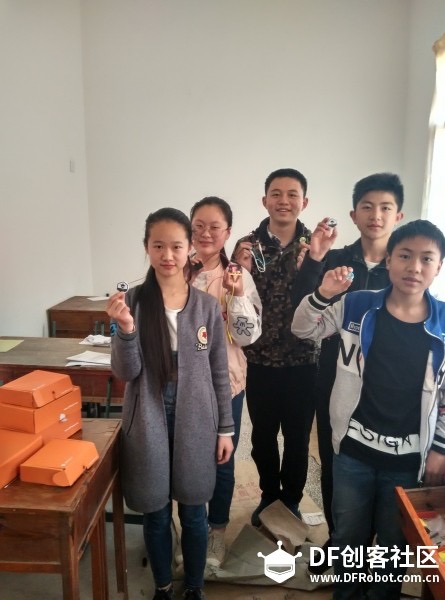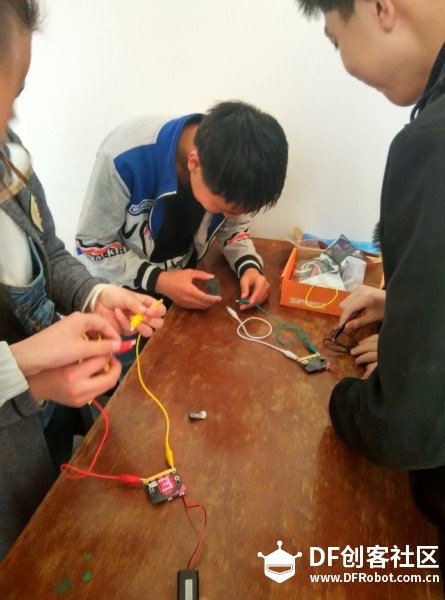 The project which I applied was a line tracking car with micro:bit. Considering the difficulties of wiring, I had to make an expansion board first.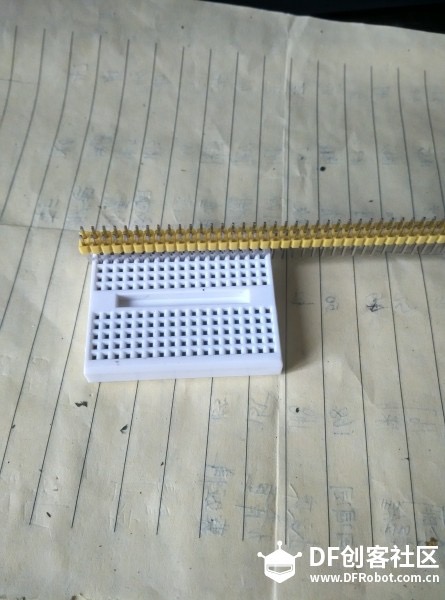 Due to limited condition, the car was made very simple and crude.

Doing research, determining pins and noting.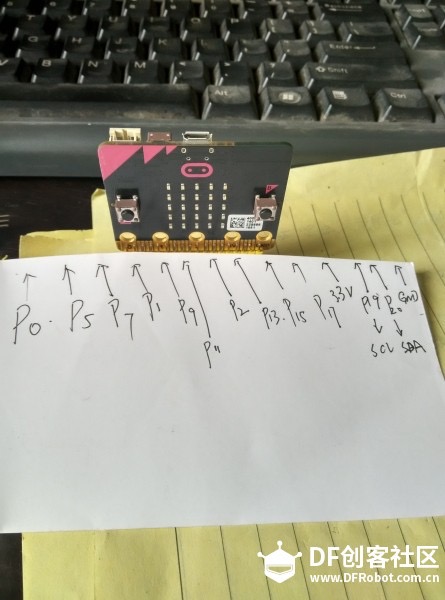 Now we started to make the car.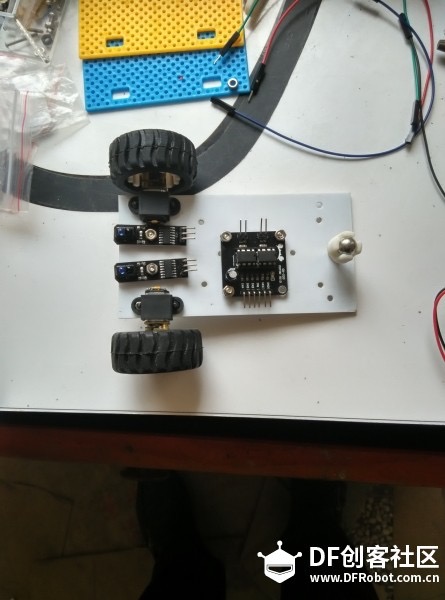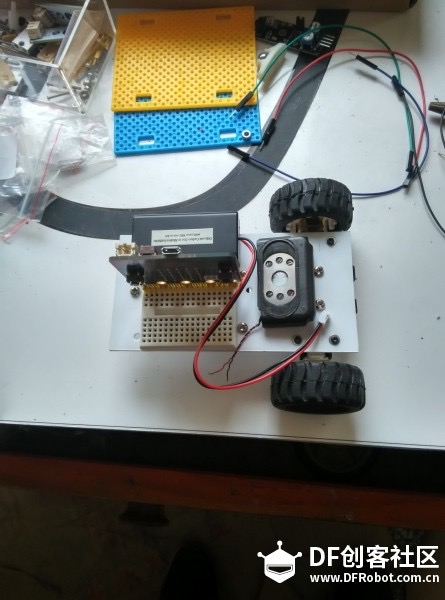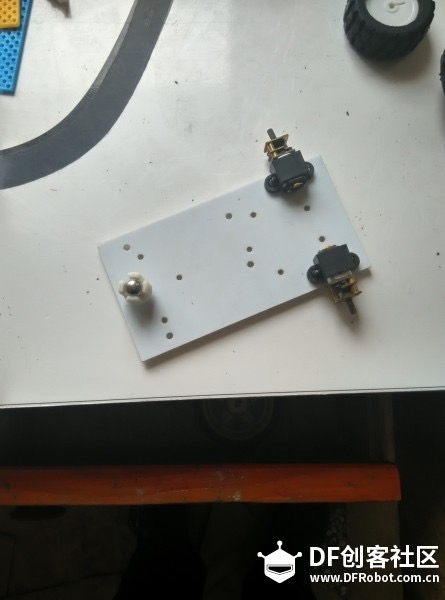 For a man who is already at age of 45 and knows nothing about English, it's too hard to tape codes. With helping by youdao (dictionnary), it took the half of a day to understand the graphics programming on the homepage.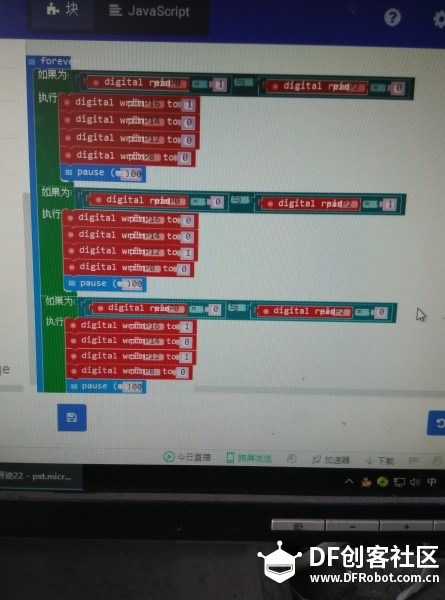 The car has been constructed, tested first, then updated video.




Tow batteries had no enough energy to run the car. It's much better when I changed 5v mobile power.





In general, with the advantages of simply programming, well compatibility, low power consumption and powerful. I think micro:bit is well suited for primary and secondary school students. The expansion board develops more function for micro:bit.