The 10 Best Bluetooth Modules For Raspberry Pi
The Raspberry Pi is one of the most powerful budget boards you can find for your electronics projects. Its open source design allows for multiple peripherals to be compatible with it, such as sensors and various communication modules. ASIM QURESHI has handpicked 10 Bluetooth modules for Raspberry Pi. The original article can be found on Wonderful Engineering!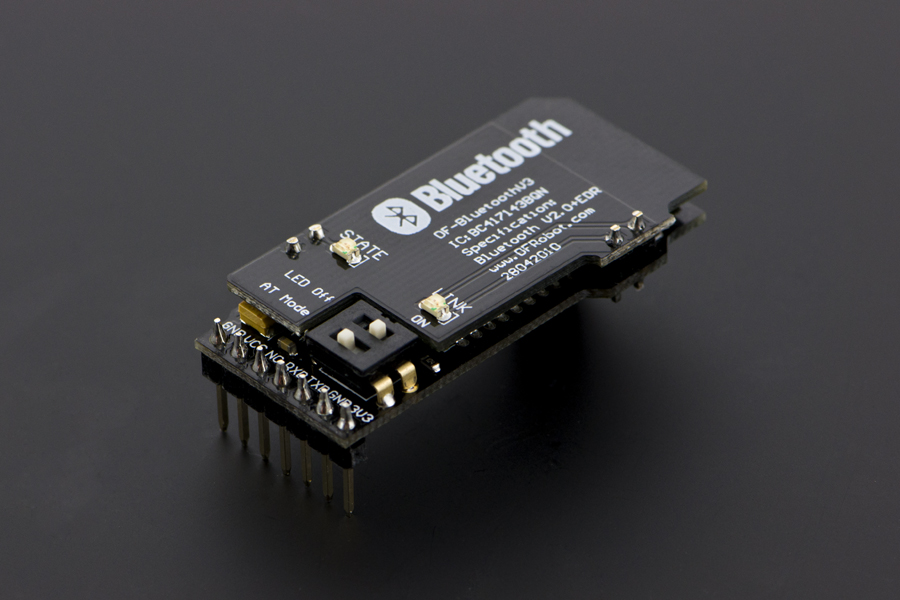 The DF-BluetoothV3 Bluetooth module uses a unique double-board design, it is beautiful and aim to prevent electrostatic damage to the module. It is designed to have 2 DC power inputs, good voltage range (3.5V ~ 8V) and 3.3V power supply, suitable for various applications. STATE LINK is indicated by a clear and bright LED which is used to display module status and connection status (STATE state: Search state (high 104ms 342ms 2.9Hz cycle flicker) connection status (high 104ms period 2s 0.5Hz flashing), LINK state: paired ). It has build-in on-board antenna which provides high quality signals. 
DIP switches are used to set the module status, LED Off to turn off the LINK light to enter power saving mode, AT Mode allows the module to enter AT command mode, AT commands can modify the baud rate and the master and slave mode.
This module can also be used as a pair which provides a transparent serial data communication. It has been tested and compatible with most Bluetooth adapter in the market (Bluetooth dongle, including laptops and mobile phones) and Android phones. 
The other featuread modules are:FORWORD Bluetooth 4.0 HM-10 Master Slave Module (14.99$)
Though this module was originally designed for an Arduino board, it can work with Raspberry PI almost instantly. The small module has the operating frequency of  2.4GHz.
HC-05 by 'Unbranded'(1.69$)



The affordable HC-05 module will suffice for most of your small electronics projects. But like almost anything, there a downside to that cost as the device is prone to failures and often drops the Bluetooth connection to the connected device.

 RioRand® Bluetooth 4.0(9.99$)
RioRand is one of the best suppliers of equipment for student projects. This Bluetooth module has a range of over 70 meters and is fitted with Texas Instruments CC2540 transceiver chip. This is the smallest module on our list and apart from integrating with Raspberry PI, it can be used in a variety of embedded applications.
USPRO® HC-06 Module(8.99$)
HC-06 modules traditionally are low power but can not be used in a master configuration as the HC-05. This module can work on multiple baud rates and is controlled via limited set of AT commands from the Raspberry Pi.
 Atomic Market HC-06 Module(8.99$)
Atomic Market product has a range of 40 feet and has a default baud rate of 9600. Atomic Market has a variety of different electronic items for your projects and whats good about the manufacturer is that all of the devices are highly reliable. That quality is represented in this module as well since the system rarely drops a connection.
 JBtek HC-05 Wireless Bluetooth Host Serial Transceiver Module (8.99$)
HC-05 hosts a different firmware to the HC-06. This module can comprehend far more AT commands than any other, so it makes the device easy to configure as per your liking. JBtek product works entirely on 3.3V.
Sunkee  Wireless Bluetooth RF Transceiver Module (8.84$)
Though this module only has the range of 30 feet it allows 802.11Co-Existence. The device has both 2Mbps and 3Mbps modulation modes & is R0HS compliant.
JY-MCU Bluetooth Module by SHANHAI (6.50$)
The short-range Bluetooth module delivers quality signals over super fast speed as it operates at 3Ghz. The module has been reported for no systemic failures and works like a charm specially with Android smartphones.
 KEDSUM Arduino Wireless Bluetooth Transceiver (9.99$)

One of the most popular Bluetooth module for a Raspberry Pi board, as its has over 150 reviews and 4.5/5 star rating. The module has a range of over 50ft and thanks to HC-05 firm ware it comprehends a lot of AT commands.  Additionally, it comes with its ribbon cable for connecting to other devices.