2016 Black Friday Sale
The black Friday sale will start in 25th Nov. and end in 28th Nov; more than 100 DFRobot products (
up to 50% off) will be

involved

in this event.
Besides, c
oupons would be sent out! The more you buy, the more you save!!!

Now, let's preview the black Friday deals!
Flash Deal
These products only sale for 24 hours! Don't miss the only chance!
Deal 1 (25th, November, 2016)
Sale Price: $42
(

Was $

56.95

)
This is a professional Arduino pH Sensor Meter Kit with industrial electrode. It has built-in simple, convenient , practical connection and long life (up to 1 year), which makes it very suitable for long term online monitoring.

It has an LED which works as the Power Indicator, a BNC connector and PH2.0 sensor interface. To use it, just connect the pH sensor with BND connector, then plug the PH2.0 interface into the analog input port of any Arduino controller. If programmed , you will get the pH value easily.



Sale Price: $21
(
Was $29.9)
The Insect Bot mini is an easy to assemble robot for young engineers from 6 to 100. With assembling this robot you will learn the basic robotics in terms of how all the components work together.

There is a microcontroller which is working as the robot brain and two servo motors for the movement. The IR sensor on it's head will act as an eye to detect obstacles in front. The programming can be done by simply connecting the Beetle controller with the USB port on your computer. It is the best way to start building robot on Arduino.


Deal 2
(26th, November, 2016)
Sale Price: $51
(
Was $69.9)
This Analog EC Meter is unique. It is designed specially for Arduino controllers and has built-in simple, convenient and practical features.

After simple connections according to our diagram and uploading the program, you will be able to measure the EC value easily.






Deal 3 (
27th, November, 2016)
Sale Price: $37
(
Was $52.9)
Starting from basic LED control to more advanced environmental sensing, monitoring and actuators, this
Arduino Beginner/Starter Kit
will guide you through the
world of the sensing, controlling the physical world through sensors and microcontroller via carefully designed project.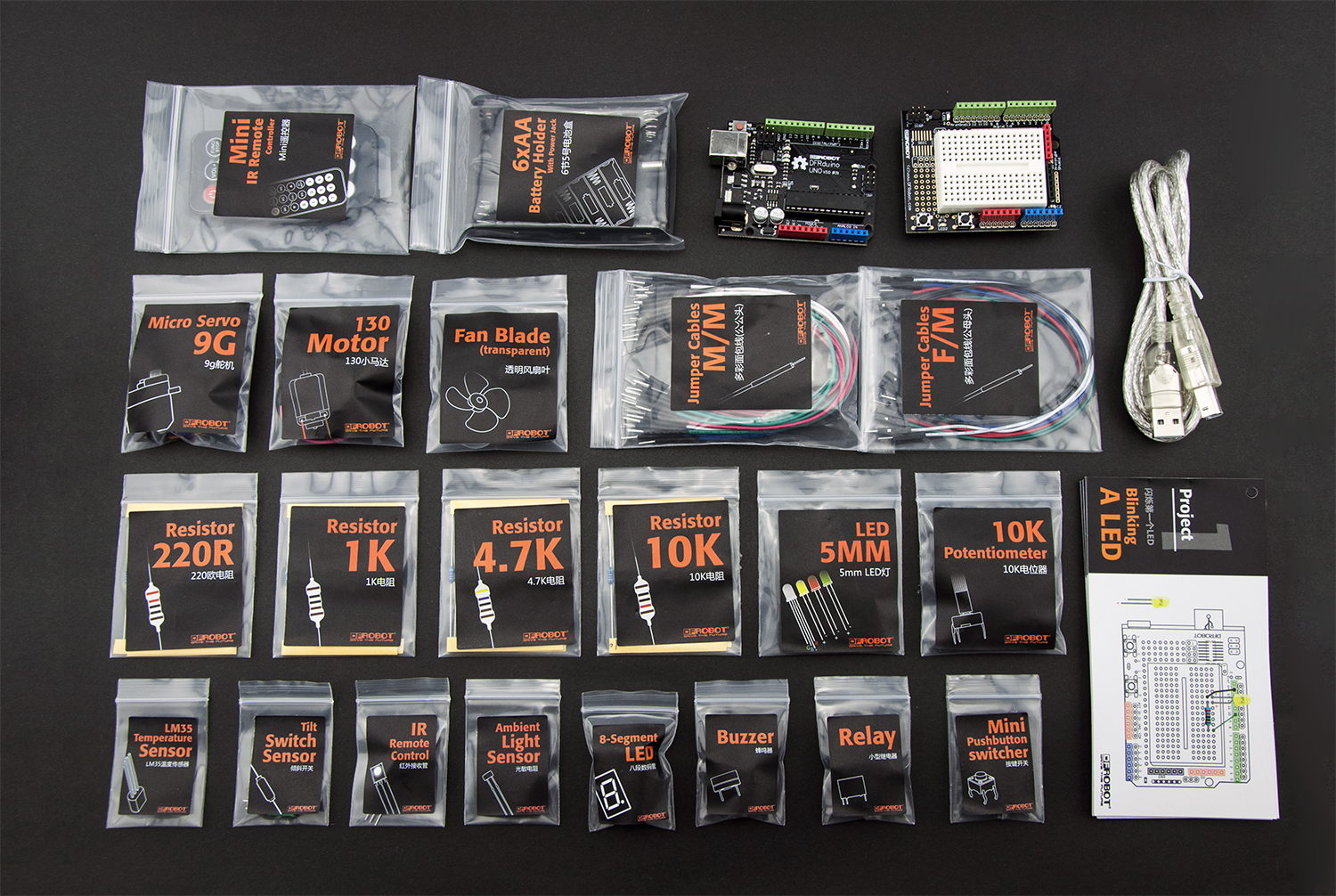 The kit comes with 20 high quality components and 15 project flash cards which make the kit easy to learn and teach.






Deal 4
(On 28th, November, 2016)
Sale Price: $9.9
(
Was $14.9)
The product is designed to look like a three-leg monster whose eyes or tentacles glow in accordance with ambient light level. The stronger the light is, the faster it moves.


There is no programming involved and all soldering is intuitive and rookie-friendly. So it is perfect for novice electronic enthusiast. Also you can give Mr NEON different face through changing the expression stickers.


Sale Price: $57
(
Was $79.05)
This little robot kit is a complete robotic learning platform, with low cost and a good learning curve. It provides most of what you need. From beginners to advanced users, MiniQ 2WD will get you started quickly in the robotics world and let improve or adapt as per your project requirements.

This Kit comes with Arduino Leonardo controller but also integrates useful modules such as buzzer, RGB LED, photosensitive diode, infrared LED receiver and compass. If you use Lithium battery, you can also use the charge port of MiniQ. This kit is convenient for you to create a obstacle avoidance robot or direction detection robot.




Buy Bluno and Get an Expansion Shield ($25) For Free
Bluno - An Arduino Bluetooth 4.0 (BLE) Board is first of its kind in integrating Bluetooth 4.0 (BLE) module into Arduino Uno, making it an ideal prototyping platform for both software and hardware developers to go BLE.

Accessory Shield for Arduino is specially designed for Bluno. It also compatible with standard Arduino Uno.

With Bluno, this Accessory Shield forms an ideal prototyping platform for both software and hardware developers to go wireless.


This activity go on live on 25/11/2016 and will end in 05/12/2016.




Coupons
Valid: Friday, November 25 - Monday, November 28, 2016. Four days ONLY!

$10 off any $150 purchase, Coupon Code:
10off150
$15 off any $200 purchase, Coupon code:
15off200
$20 off any $250 purchase, Coupon code:
20off250




Except these, there are over 100 product on sale including microcontrollers, sensors, educational kits, robots, 3D printers.....
Don't miss the biggest sale of the year!