DFRobot Surpasses Kickstarter Goal for Boson Kit, Mass Production to Begin in June
First Coding-Free Electronic Building Blocks for STEM Education Raise $53K, Exceeding Initial Goal by 40 Percent with Two Days to Go>>>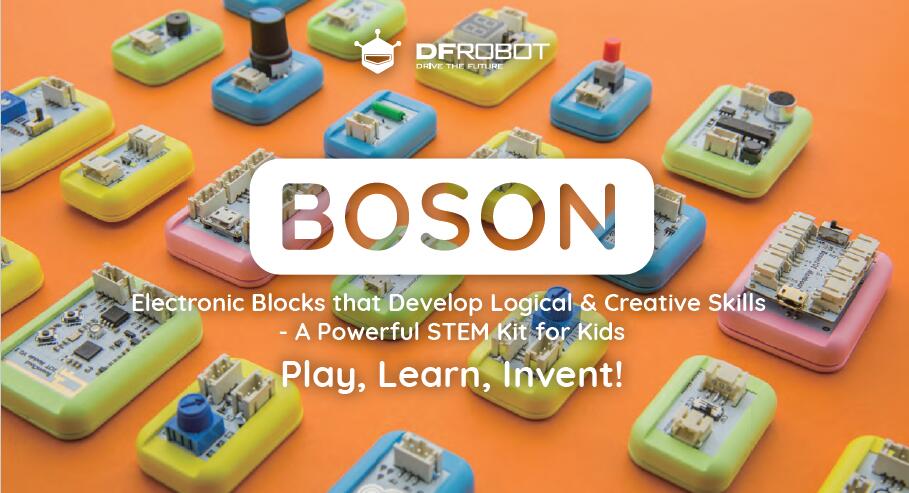 New York—June 19, 2017—Robotics and open source hardware provider, DFRobot, has exceeded its Kickstarter goal for STEM education tool Boson Kit by nearly 40 percent, with five days of the campaign remaining. With almost 250 initial backers, the first coding-free electronic building blocks will go into mass production this month; they will be available for distribution in September.
DFRobot developed Boson Kit to provide a hands-on STEM tool for innovative young students and teachers looking for a visual way to make math and science subjects fun in the classroom. Boson Kit's distinction is its coding-free functionality, providing users with an applied experience without the complexity of programming prior to use. It is compatible with Legos, magnets, screws and Velcro, using its Internet of Things (IoT) module to allow everyday innovations to come to life – whether it's a walking robot or an electronic candle. It is also fully compatible with Scratch, allowing all users, from beginners to advanced, to unlock the capabilities and unique AI features of Intel® Curie™ through an easy-to-use design.
According to Ricky Ye, CEO of DFRobot, "As STEM courses become part of the core curriculum in schools around the world, robots and robotics will begin to serve as the central force of STEM education. Boson Kit is well-positioned at the forefront of this natural evolution, and its success on Kickstarter is a precursor of the interest to come."
DFRobot launched its Kickstarter campaign in May. Backers ranging from parents to teachers to engineers believe in the hands-on teaching power of Boson Kit, and are looking forward to the tool soon coming to market. Boson Kit will be sold on DFRobot.com, Amazon, and through other distributors, with different versions ranging in price from $45 to $309. Discounted prices are available through the duration of the Kickstarter campaign.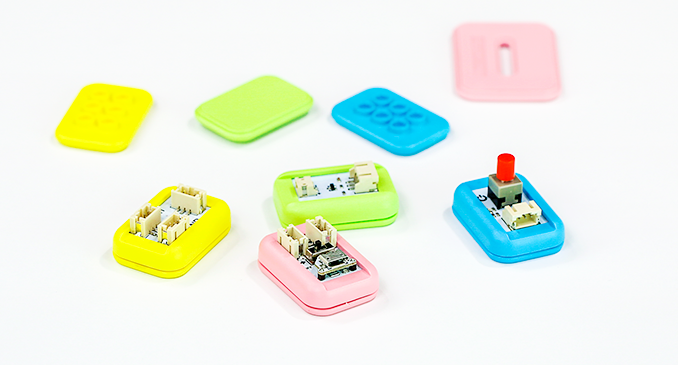 "Robotics have a profound impact on wide-ranging fields such as medicine, military and disaster relief. In fact, Forrester says that 25 percent of all job tasks will be offloaded to robots by 2019," continued Ye. "That's why STEM tools are so important; DFRobot is committed to helping children to gain STEM skillsets by practicing, repeating and growing their coding abilities. The impact of robotics is unavoidable, which makes STEM skills both essential and synonymous with the future of work."
As part of the company's EdTech initiative, DFRobot has developed other tools, including:
- Antbo, a fun, affordable and easy-to-assemble DIY robot kit that allows users to learn the basics of robotics by creating one of their own
- Vortex, a smart and responsive robot that kids can play with and program
- Gravity, starter kit for the Arduino platform
DFRobot's full suite of EdTech education products is available here.
About DFRobot
DFRobot is a robotics and open source hardware provider that is dedicated to creating innovative, user-friendly products that foster a strong community of learning. DFRobot collaborates with multiple tech giants including Intel and Microsoft and has a product catalog boasting over 1,000 components and widgets including sensors, robotic platforms, communication modules and 3D printers. DFRobot is one of the early evangelists of the Maker Movement and strongly supports greater access to the maker culture.

DFRobot is headquartered in Shanghai, China. For more information visit www.dfrobot.com.