After the calculation and evaluation of DFRobot Kit Products,our pick for the most popular kits of 2017 are 15 kits from our product database, including starter kit, education kit, etc.



1. Beginner Kit for Arduino (Best Starter Kit) $52.90
(Released on 2010 Sep)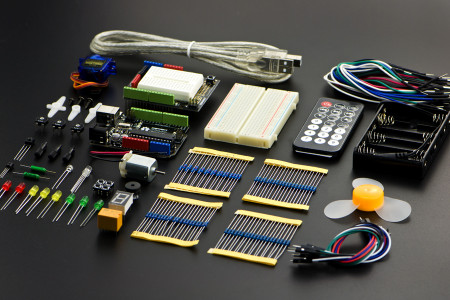 Arduino Beginner kit will guide you through the world of the sensing, controlling the physical world through sensors and arduino microcontroller via considerate designed project.
It comes with 20 high quality components and 15 project flash cards which make the kit easy to learn and teach.




2. LattePanda Starter Kit (US Adapter) $29.90
(Released on 2016 Oct)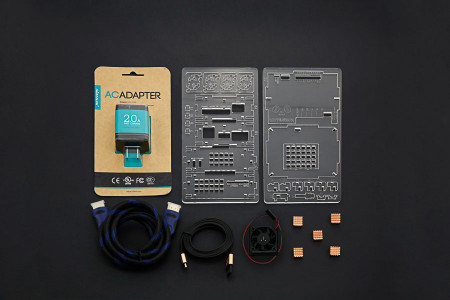 LattePanda Starter Kit includes everything you need to get your LattePanda going right out of the box!
It is the best choice for every LattePanda fans and also a simple as well as effective way to make the LattePanda cool.



3. EcoDuino - An Auto Planting Kit $53.90
(Released on 2012 Mar)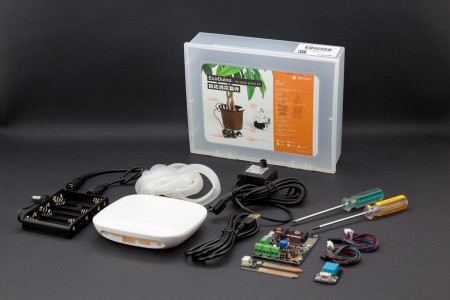 EcoDuino is designed for helping you grow plants. In this system, sensors can collect data which illustrate you the plant conditions such as temperature,humidity,light intensity, etc. You can not only program EcoDuino in Arduino IDE environment but also utilize any Arduino compatible hardware in your EcoDuino system.



4. RPLIDAR A2 - 360 Degree Laser Scanner Development Kit $448.00
(Released on 2016 May)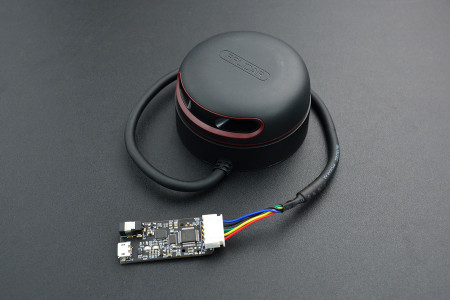 RPLIDAR A2 is a low cost 360 degree 2D laser scanner (LIDAR). It can take up to 4000 samples of laser ranging per second with high rotation speed.
The system can perform 2D 360-degree scan within a 8-meter range. The generated 2D point cloud data can be used in mapping, localization and object/environment modeling.



5. Gravity: Starter Kit for Genuino / Arduino 101 with Tutorials $89.90
(Released on 2016 Jul)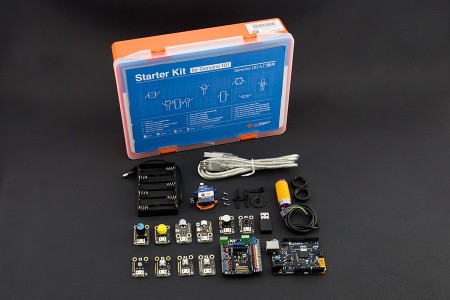 DFRobot's Gravity Genuino (Arduino) 101 Starter Kit is an absolute beginner kit to get started with Arduino/Genuino 101. It comes with 11 projects with easy to follow tutorials. It is an excellent kit for STEM and Maker education.
The kit comes with 13 most popular sensors, modules together with an easy-to-plug IO expansion shield, allowing users to build various interactive projects without using breadboards or jumper wires.




6.Antbo DIY Robot Kit - The Best Robot for Kids $119.00
(Released on 2016 Oct)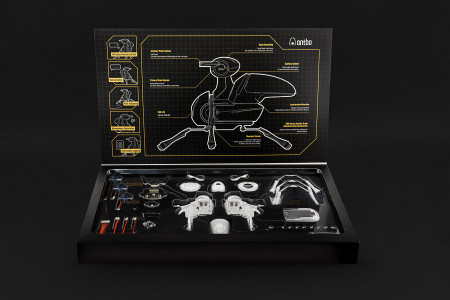 Antbo is an assembling bionic robot. Kids will learn basic robotic knowledge and movement principles during the process of assembling the robot. Antbo uses nearly dozen sensors, simulation artificial neuron network through the movement system and optimized gait algorithm to simulate the movement of insects. Rich interactive mode allows users to interact with the robot to have a variety of interesting, but also can use the Antbo app to control robot or voice control.




7. Gravity: 27 Pcs Sensor Kit for Arduino $79.90
(Released on 2012 Jul)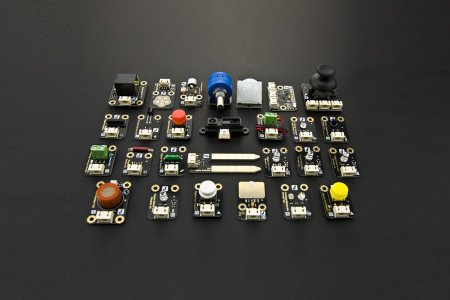 Gravity: 27 Pcs Sensor Kit is the perfect choice for you to get start to play with sensors. It comes with bundle of the most popular DFRobot sensors such as light sensors, gas sensors, sound sensors, touch sensors, distance sensor, accelerometer and lots more which gives unlimited possibilities to sense the physical world on your embedded devices.



8.Weather Station Kit with Anemometer/Wind Vane/Rain Bucket $138.00
(Released on 2015 Jul)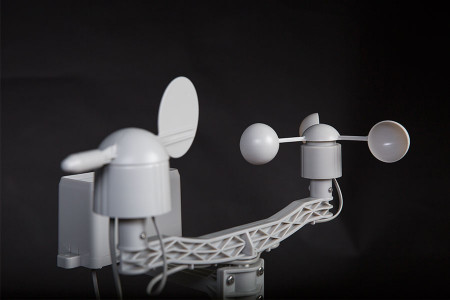 This iot weather station kit includes anemometer, wind vane and rain bucket. The serial communication method provides good compatibility and makes it easy to use with most controllers in the market.
Compatible with other components, it can be widely used to measure wind/rain in engineering, railways, docks, power plants, meteorological, cable way, environment study, agriculture, etc with corresponding signal output.



9. CurieNeurons Kit - A Neural Network Deep Learning Kit $139.00
(Released on 2017 May)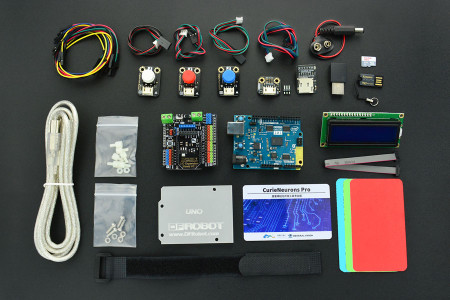 The CurieNeurons is a neural network deep learning kit designed for creating artificial intelligence related IoT projects. The kit includes all necessary tools, components and tutorials for setting up quick demos. It enables users to build smart hardware capable of pattern learning and classification without a single line of code.



10. Gravity: Starter Kit for Arduino $59.90
(Released on 2016 Apr)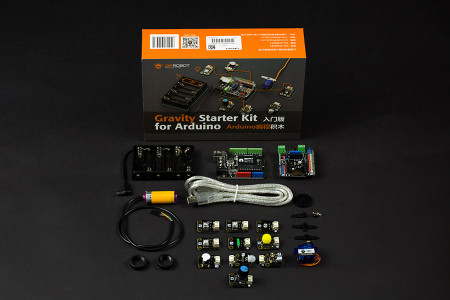 Gravity Arduino Starter kit is a plug&play electronics toolkit that provides Arduino beginners and makers with the easiest experience of learning and playing with the Arduino platform.
Gravity Starter Kit includes a DFRduino UNO R3 microcontroller and 12 most popular and interesting electric components and sensors. The tutorials inside is full of graph and is written in a simply way that anyone could build their own project using Gravity Starter Kit with no difficulty.



11. Insectbot Hexa -An Arduino Based Walking Robot Kit For Kids $37.50
(Released on 2014 Dec)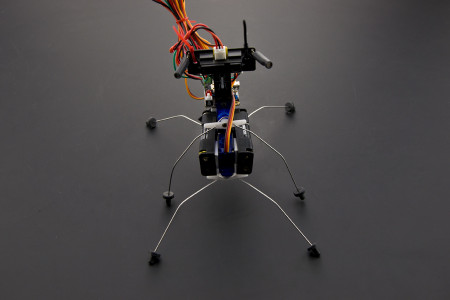 Insectbot Hexa is an Arduino Based Walking Robot Kit For Kids. You can program Insectbot with graphical language Ardublock, and spend some time tweaking it from head to toe. It's code has been redesigned to make it smarter in motion, and has an improved capability in obstacle avoidance.



12. Capacitive Touch Kit For Arduino $19.50
(Released on 2011 May)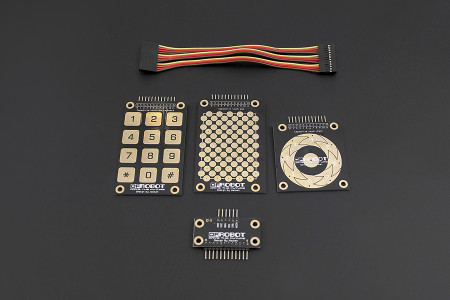 This DFRobot touch kit comes with three types touch sensors. An ipod styple wheel touch, a keypad touch which supports backlit and a grid touch pad which can recognize something unique.
This kit utilizes the not very "latest" capactive touch technology which make the sensing quite sensitive.



13. DIY Remote Control Robot Kit (Support Android) $160~$184
(Released on 2011 Dec)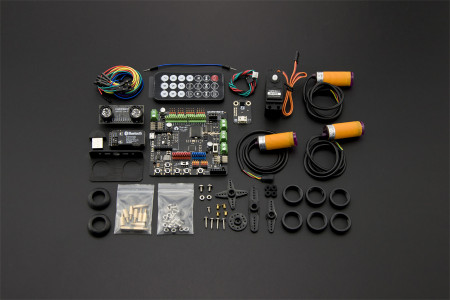 This basic DIY Remote Control Robot Kit is designed for you to create a small autonomous or remote controlled robot. Although the kit includes all essential parts to make an autonomous robot, it is intended to allow you to add your own electronics in order to satisfy your objectives.
It has integrated sockets for APC220 RF Module and DF-Bluetooth Module and enables to support two way Motor Driver with 2A maximum current.



14. Turtle Kit: A 2WD DIY Arduino Robotics Kit For Beginner $99.00
(Released on 2015 Jan)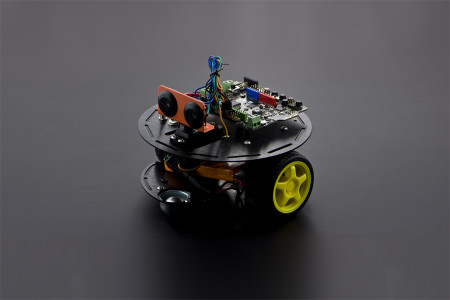 The Turtle 2WD DIY Robotics building kit is a entry level programmable robot kit based on Arduino. With just a few simple steps of assembling the hardware and tuning the software, and you'll learn all about Arduino, robotics, sensors, bluetooth communication — as well as obstacle avoidance and remote controlling. You can also take it further with your own code to take advantage of the ultrasonic sensor, Romeo ( a Bluetooth 4.0 Arduino Microcontroller ) , IR distance sensors and LEDs.




15. IR Kit for Arduino $7.50
(Released on 2010 Oct)
This IR kit provides a remote control capability to your project. It enables your Arduino project to receive command from any IR remote controller.
The kit contains an IR Remote Controller, an IR Receiver Module, and a Digital Cable.