Here comes the end of the summer vacation. Another fancy start to enjoy a maker journey again. Here we collect several featured products and projects for diverse segments to ease your barrier into new ideas and creations.
Collection for College
I know Wearables, IoT, and Automation will always draw your attention. Here we list some products and related projects to boost your infinite ideas.
Mixtile GENA -A Wearable Electronic Development Kit
Mixtile GENA is a wearable electronic development Kit based on MT6260 and nRF51822 dual-processor architecture. Mixtile GENA helps you to create your own wearable or IoT devices. Based on its dual-processor architecture, it connects with iPhone/iPad directly and receives messages without the need of an app. This stunning technology allows you to remotely control your Smartphone with music playing or photo shooting. With GENA you can develop your own smart watch, portable activity tracker, desk notification receiver, smart home controller or other devices by adding accessories to it or embedding it in other gadgets, and make your own app on it with JavaScript easily.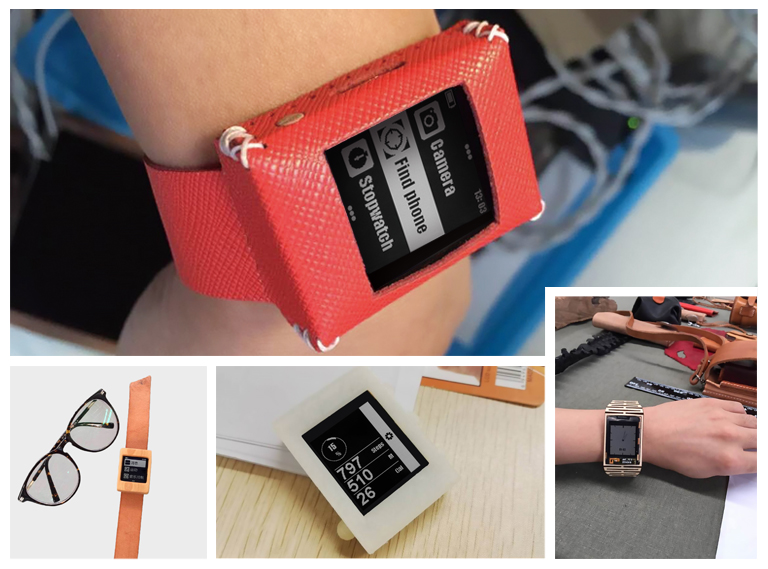 DFPlayer - A Mini MP3 Player For Arduino
Sing for the moment! The DFPlayer Mini is a small and low cost MP3 module player with an simplified output directly to the speaker. The module can be used as a stand alone module with attached battery, speaker and push buttons or used in combination with an Arduino UNO or any other with RX/TX capabilities.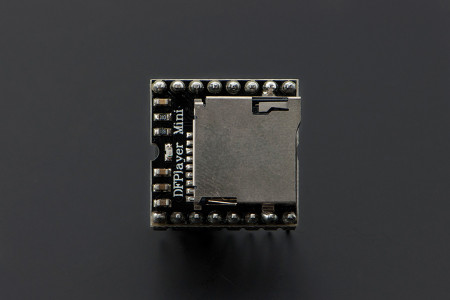 Project 1. Arduino - Test DFPlayer Mini MP3 Module by Stonez
Project 2. How to Make an Automatic Christmas Tree
Project 3. How to Make a Jumping Paper Frog
Project 4. Death Star word clock
Project 5. How to Make A Terrifying Halloween Gadget
Project 6. How to Make A Pet Wearable


The MPU-6000/MPU-6050 family of parts are the world's first and only 6-axis MotionTracking devices designed for the low power, low cost, and high performance requirements of smartphones, tablets and wearable sensors. It is commonly used in the Human-computer interaction(HCI), navigational purposes and balancing technology used in the Segway Personal Transporter.

FireBeetle Board-328P with BLE4.1
DFRobot FireBeetle series are low power consumption microcontrollers designed for Internet of Things (IoT) development. This Bluetooth controller combines Bluetooth Low Energy 4.1 with Arduino controller, offering functions similar to the former Bluno series but with lower power consumption.
FireBeetle BLE 4.1 is compatible with Bluno series (BLE 4.0) and performs much better. It equipped with more stable DIALOG Bluetooth 4.1 chip, supporting maximum 4Kbyte/s transmission rate and low power consumption (25uA POWER DOWN). It can be directly applied to low power consumption application such as wearable and intelligent tools and so on.

Bluno - An Arduino Bluetooth 4.0 (BLE) Board
It's time to get Bluetooth 4.0 into your arduino project and sync it up with your phone! For aficionados of smart devices and wearables with this new tech (Bluetooth 4.0 low energy, BLE), now you can go further than hacking things apart to start prototyping with your Arduino. What's more, we also developed an App for Bluno (both Android and IOS) and they are completely opensource. You can modify and develop your own BLE-hardware platform.
You can use Bluno with any Bluetooth 4.0 compatible devices and enjoy features such as wireless transmission, master and slave settings, wireless programming and even establishing a Bluetooth HID connection with the PC between devices.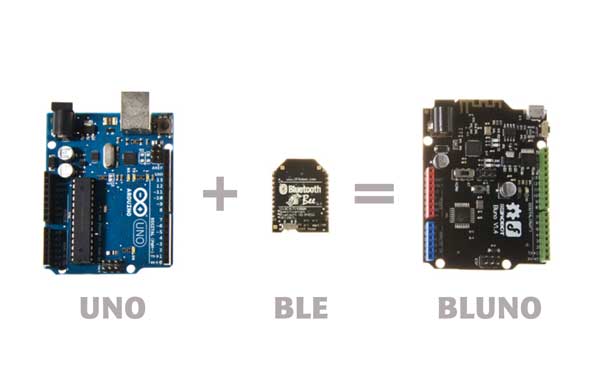 Solar Power Manager is focusing on high-efficiency, small power solar energy management for IoT projects and renewable energy applications. It features as MPPT (Maximum Power Point Tracking) function, maximizing the efficiency of the solar panel. Apart from serving as a solar charger, the module can provide up to 2A charging current to 3.7V Li battery with AC adapter (within 30V) or USB charger, three individual ON/OFF controllable DC-DC converters with 5V 1.5A, 3.3V 1A and 9V/12V 0.5A outputs. These features satisfy the needs of various solar power projects and low-power applications. The module also employs various protect functions, such as Li battery protection, battery/solar panel reverse connection protection, output over temperature and over current/short circuit protection, which greatly improves the stability and safety of the system.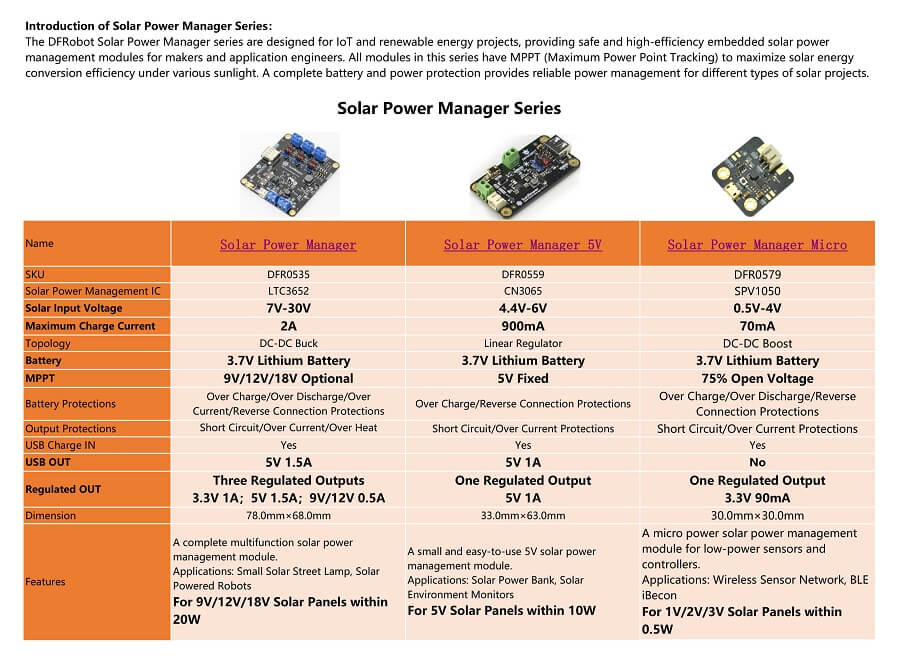 Digital RGB LED Weatherproof Strip 60 LED - (1m)
LED Strips always glow nicely in the dark and are super fun to play with. They can be used in home decorations, festives and interactive art installations. This Digital RGB Strip is a intelligent control LED light source that the control circuit and RGB chip are integrated in a package of 5050 components. There are 60 RGB LEDs per meter, and you can control each LED individually. It internal include intelligent digital port data latch and signal reshaping amplification drive circuit. With low voltage requiremnt and environment-friendly design, this Digital RGB LED Strip has high brightness, low power consumption and long life. Its additional features are awaiting your exploration!
Project 1:
How to Make Music IQ Led Lights with arduino board?
Project 2: How to make a Programmable Fiber Optic Fairy Wings?
Project 3: LED writing board (micro:bit compatible)



12V Low noise DC Motor 146RPM w/Encoder
It is a low noise motor and high torque output motor with hall encoder built-in. The hall encoder gives 663 pulse per rotation which is able to sense 0.54 degree rotation from the shaft. This resolution meets a general PID speed control requirements thus making it a great choice for robotics.
The sturdy metal casing, and gears gives you a change at a competition robot or harsh environments where your robot might get hit from objects or people. This motor is widely used in mobile robot area and some stationary automation devices.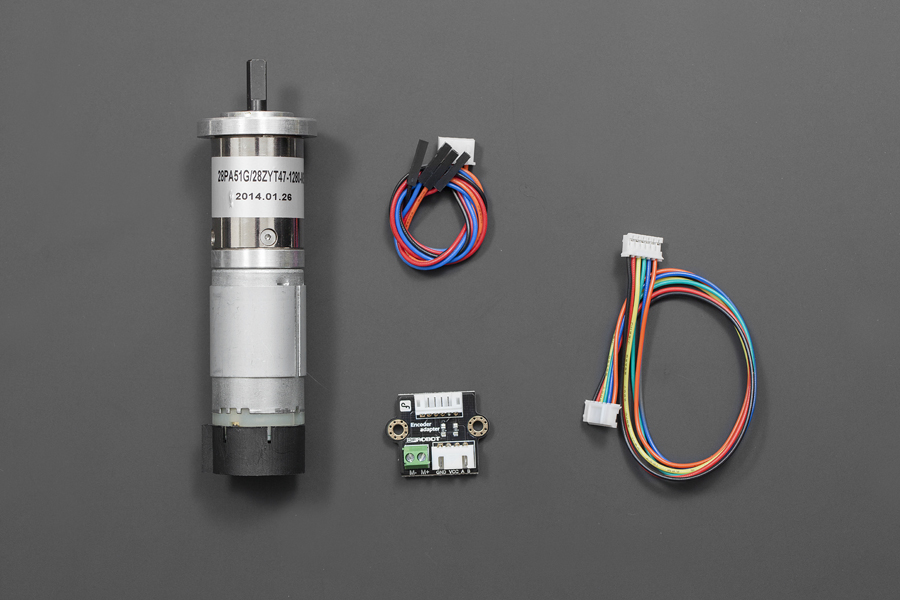 Project 1. Summer inspiration-DIY automatic curtain lift
Collection for High School and Primary School
We know you are very talented and welcome to maker's world. Here we prepare some products, most of which are referred to starter stage.
Gravity: Starter Kit for Genuino / Arduino 101 with Tutorials
DFRobot's Gravity Genuino (Arduino) 101 Starter Kit is an absolute beginner kit to get started with Arduino/Genuino 101. It comes with 11 projects with easy to follow tutorials. The Gravity interface (Plug&Play) provides the kit a fantastic user experience while keeping the great expandability. It is an excellent kit for STEM and Maker education.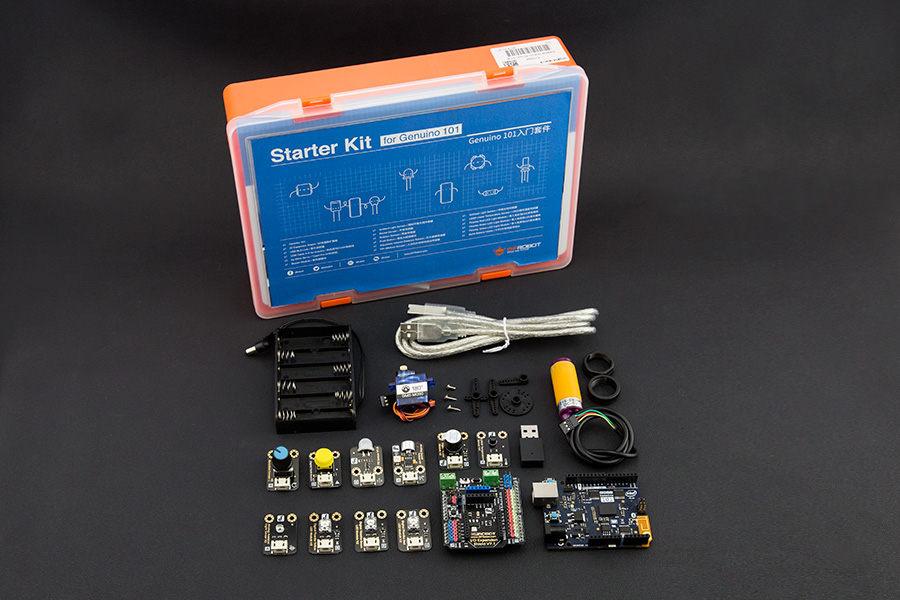 EcoDuino - An Auto Planting Kit
EcoDuino can be protected from water splashes. It is safe to use beside your plants. The EcoDuino now sports an Atmega32U4 which eliminates the requirement of an adapter. And sketches can simply uploaded via Micro USB just like Arduino Leonado. Another improvement is that the DS18B20 sensor is now directly supported.
We design EcoDuino to help you grow plants. By using a series of microcontrollers, sensors and actuators, the EcoDuino system can make your efforts to grow plants much easier. In this system, sensors are used to collect data which can show you plant conditions like temperature,humidity,light intensity, etc.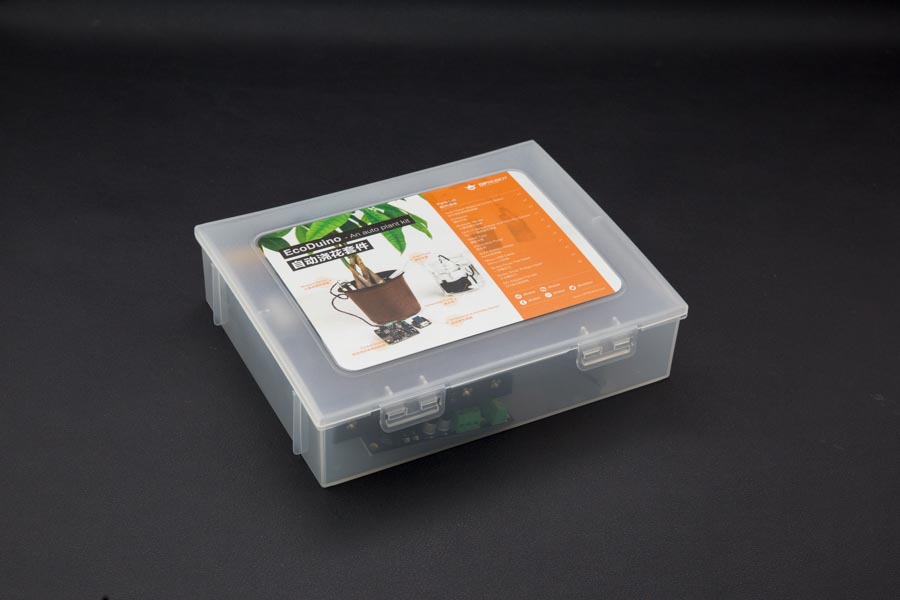 Project 1. Build An Automatic Plant Watering System with ESP8266
micro: Circular RGB LED Expansion Board
This board can be a cool clock, a timer, a Lucky Turntable Game, a wearable ornament, and an interactive colored pendant. With a micro:bit main board, this 24 RGB LEDs circular expansion board changes to an exquisite creator's piece. You can turn it into a tomato timer via the onboard buzzer, and turn it into a colorful music spectrometer through the onboard microphone; There are two external ports P0, P1 in reserve, so you can get more ways to play by connecting a large number of boson and gravity sensors.
BOSON Science Kit & BOSON Inventor Kit
DFRobot Boson Kit is a set of coding-free electronic building blocks for young inventors, STEM educators and tinkerers.
It brings kids:
scientific sensors for physics, chemistry and biology.
Activity cards that guide kids to start a scientific exploration on different topics.
Plug and play LED monitor for instant result display.
Infinite possibilities of combining the sensors with micro:bit, Arduino and other Boson modules.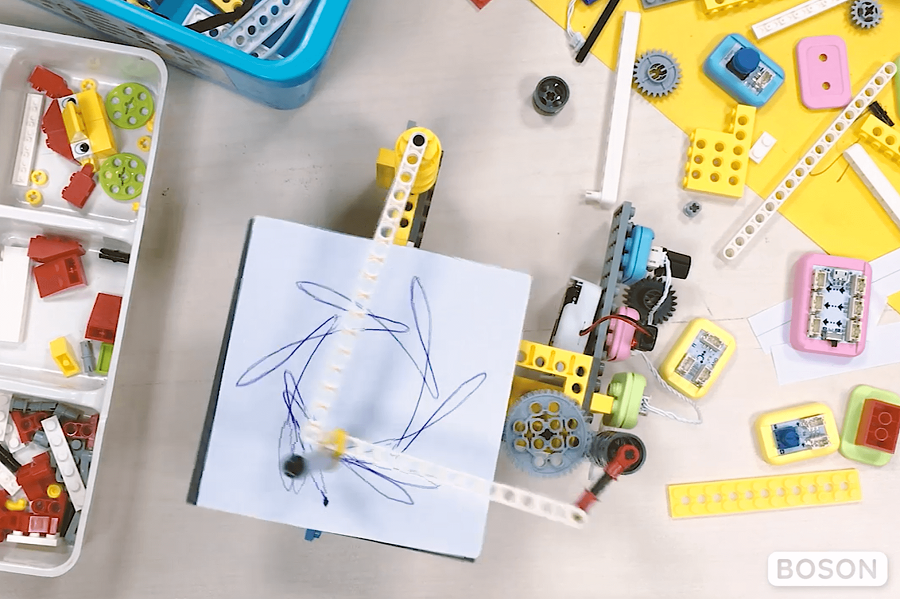 micro:bit Go (On-the-go Starter Bundle)
micro:bit is a pocket-sized microcontroller designed for kids and beginners learning how to program, letting them easily bring ideas into DIY digital games, interactive projects and robotics.micro:bit comes with a variety of on-board modules, including a 5x5 LED matrix (also supports light detection), 2 programmable buttons, motion detector, compass and Bluetooth® Smart module. Additionally, you may attach more modules such as a servo motor, RGB LED lights through five I/O rings or 20 edge connectors.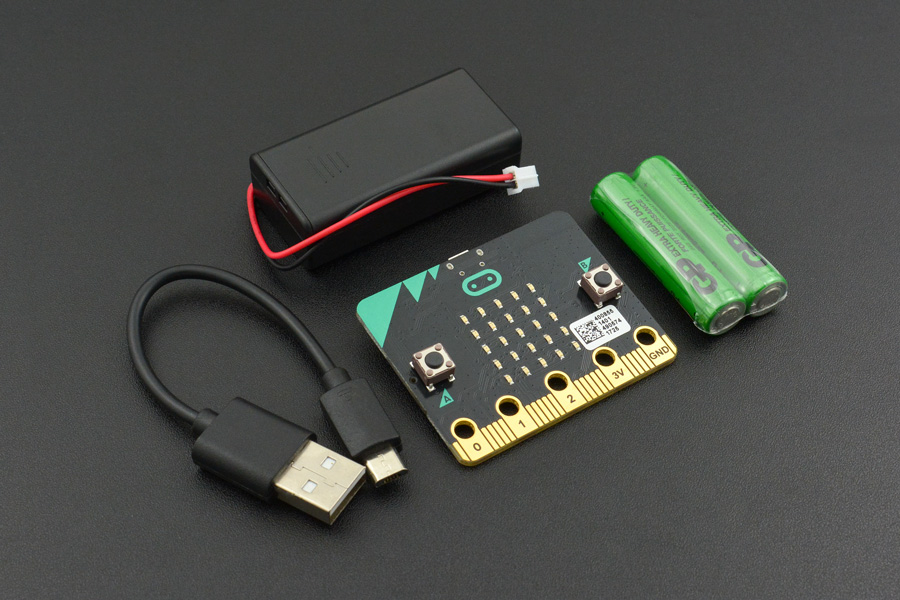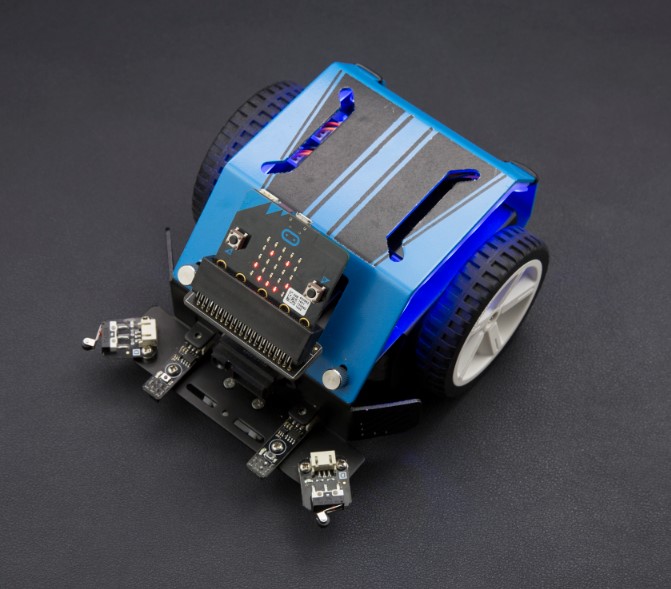 micro:bit robot
Project 1:
Micro:bit car with DFRobot gamepad