Introduction
micro:bit is a pocket-sized microcontroller designed for kids and beginners to learn coding and electronics, letting them easily bring ideas into DIY digital games,
interactive projects and robotics
.
However, on-board I/O rings and crocodile clips sometimes are not handy and safe enough to connect peripherals. To explore more possibilities with micro:bit, we have designed the
micro:bit
Expansion Board for Boson, a carry-on board that connects to micro:bit via edge connector.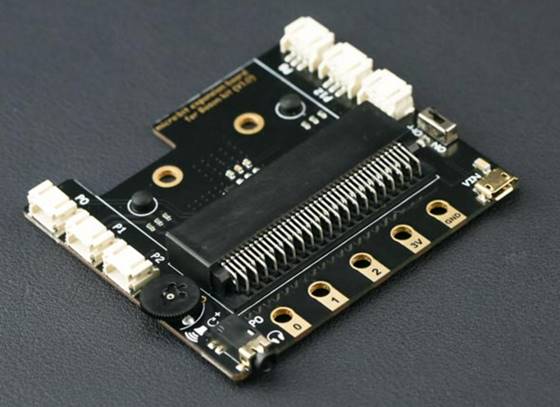 The expansion board comes with 6 fool-proof 3-Pin sockets, compatible with hundreds of DFRobot's
Boson
and
Gravity
modularized electronic blocks, covering most popular digital and analog sensors and actuators, supporting sound, light and motion interaction.
Click the link to learn more about DFRobot's Boson module:
https://www.dfrobot.com/boson
Click the link to learn more about DFRobot's Gravity module:
https://www.dfrobot.com/gravity
Moreover, the on-board 3.5MM headphone jack and volume knob supports direct connection of headphone.
To ensure a steady current supply for these peripherals, the expansion board can be powered externally through the USB power port.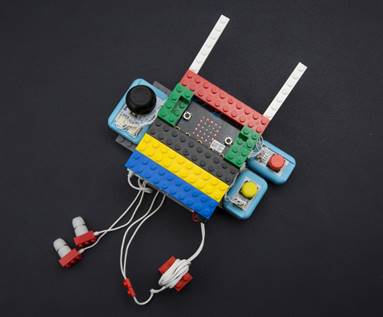 micro:bit Boson game pad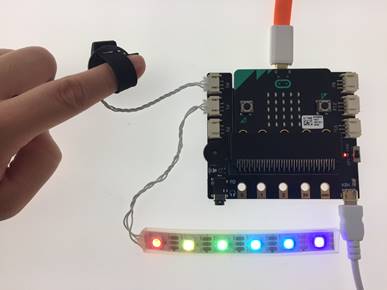 micro:bit RGB LED heart rate monitor
Features
3-Pin fool-proof connector x 6
Headphone jack with volume knob
External power port and ON/OFF switch
DFRobot Gravity and Boson electronic module compatible
Specification
MicroUSB Power Port Voltage:5V
PH2.0 Input/output Voltage: 3.3V
Input/output ring Voltage: 3.3V
Maximum Current: 500mA
Working temperature: 0-85 ℃
Dimension 80 * 70 mm / 3.15 * 2.76
Weight: 48g
Documents
Shipping List
micro:bit Expansion Board for Boson x 1
200mm fool-proof PH2.0 cable x 6
Projects
Project 1. Micro:bit Surprise box
In this project it shows how the box interacts with flahsing hearts.
Main Components:
How can a Halloween without a pumpkin lamp? The pumpkin lamp made of recently popular Microbit is a good choice.
Project 3: A colorful grapefruit made use of micro:bit
As a trickster for Halloween, how can we lack an ingenious pumpkin lantern as an equipment?
Hardware components: 

Needle, utility knife, chopsticks or small wooden stick, scrap wire or wire, wool
Microbit Project 4: Micro:bit Light(Mood Lamp)
After programming the micro:bit, you can plug in power to Vin. The Vin will power the micro:bit.
Hardware components:

micro:bit *1
Neopixel ring 16 LEDs  *1
Dupont cables  *1
Old lamp  *1
Project 5: micro:bit Laser Target

The ambient light sensor sensor detects the intensity of the laser pointer. If it is greater than 400, it will sound the buzzer and the servo will make the target fall and up. Game over when it reaches 10. Press A to reset score to 0.
Hardware components:

Micro:bit *1
laser pointer
Popsicle 
Bottle cap
paper target
Glue gun
Crocodile clip 
Micro switch 
3V battery case