Good news, Here's your chance to WIN and TEST OUT our Veyron Servo Driver (24-Channel) FOR FREE! We have prepared TEN sets for those who are lucky enough. To participate, just leave the message in comment or drop us an email. And don't forget to post us your review about this product afterwards! PLEASE NOTE this ends in TEN DAYS, so make sure you don't miss this opportunity!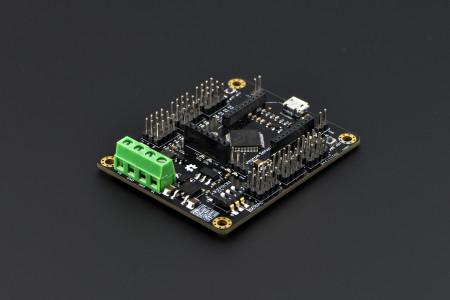 What is Veyron Servo Driver? Veyron Servo Driver (24-Channel) is a multiple servo controller, especially designed for humanoid robots, spider robots, robotic arms, and many other likewise applications. It integrates wireless data transmission interface, fully compatible with DFRobot Bluetooth module, APC220 and Xbee. The controlling modes include real-time, timer, and constant speed. Veyron Servo Driver (24-Channel) is the most powerful Mirco USB servo driver with high reliability on the market.
Veyron Servo Controller uses a high-performance, low-power STM32F103 microcontroller as its core control unit, which has a powerful, fast execution speed, high accuracy, strong I / O drive power. It supports Futaba, Hitec, Fraser and most common servos. The servo control range could be 0 ~ 180 ° (for 360 ° continuous rotation, retrofitting is needed); It has two servo control modes: single servo control, group servo control. In group control mode, the same group can be coordinated automatically with start and stop at same time. It is very useful in multi-DOF bio-mimetic robots, which requires smooth actions.
Specifications
Output channels: 24 (PWM output or TTL level output);
Servo Power: DC 4.8V ~ 6V;
Logic Power: DC 6V ~ 12V or USB (with a resettable fuse in debugging);
Driver Resolution: 1uS; 0.09°;
Drive speed Resolution: 1uS/s; 0.09°/s
Communication Interface: Micro USB /TTL serial interfaces;
Baud rate: 2400,9600,38400,115200
Size: 57.3 x 72.3mm
We also made a user-friendly, intuitive software - DFServo (Virtual Servo Controller) for you. With this software, you'll be able to control, set and adjust many of your servo combinations and acts directly with computer. You can find its wiki page
here
.
How to participate?

a. You can provide us with a brief description of the purpose of use in your review project, and the time you will be able to finish a test report on this product.
b. Please also include your email address, DFRobot account, age and occupation(if applicable)
Applications that fulfilled BOTH a&b will be considered valid. You can either leave these info as comment below or email to [email protected] Final words If you are able to provide us a test report of our trial product afterwards, we in return are more than happy to grant you further privileges in the coming campaigns.
The free trial will end at 6 July 2014. To enter for a chance, be quick! Good luck for ya'all!