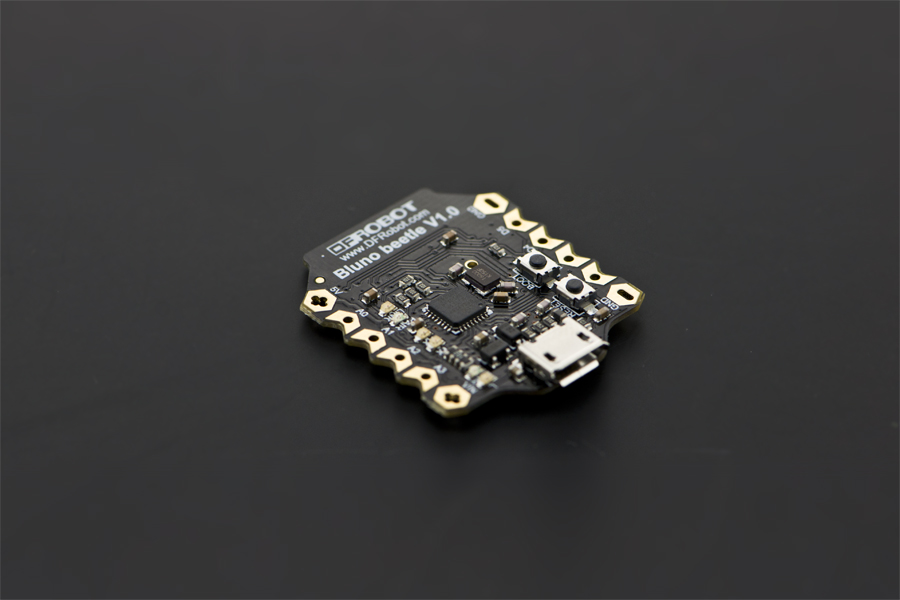 We are excited to announce the arrival of a new member in the Bluno Family, the Bluno Beetle. The "Beetle" series derives its core notion from minimalism without compromising functionality. It has been helping people to solve problems of low-cost controller, and has been providing a low cost solution for disposable projects, such as DIY projects, workshops, gift projects, E-Textiles and educational since its debut.

The Bluno Beetle is another milestone in the Beetle line, which gives wearables developers a new option in their prototype design. It is fully compatible with Bluno in instructions and procedures. Support Bluetooth HID and ibeacon modes.

It not only supports USB programming, but also wireless programming method. With the V shaped gilded I/O interface, it is convenient to screw conductive wire on it, which is good for wearables project. Below is its specs.
Bluetooth Chip: CC2540

Sensitivity: -93dBm

Working Temperature?-10 ? ~ +85 ?

Maximun Distance?50m(Open field)

Microcontroller: ATmega328

Clock frequency: 16 MHz

Working voltage: 5V DC

Digital Pin x6

Analog Pin x6

PWM Output x2

UART interface x1

I2C interface x1

Micro USB interface x1

Power port x2

Size?28.8mm X 33.1mm

Weight?10g
If you still got no idea what Beetle is, or what it can do, make sure to check this video on

Review and Comparision -

Adafruit's Trinket vs DFRobot's Beetle. While in buffer, you can read below to take a recap on the Bluno series and its relatives.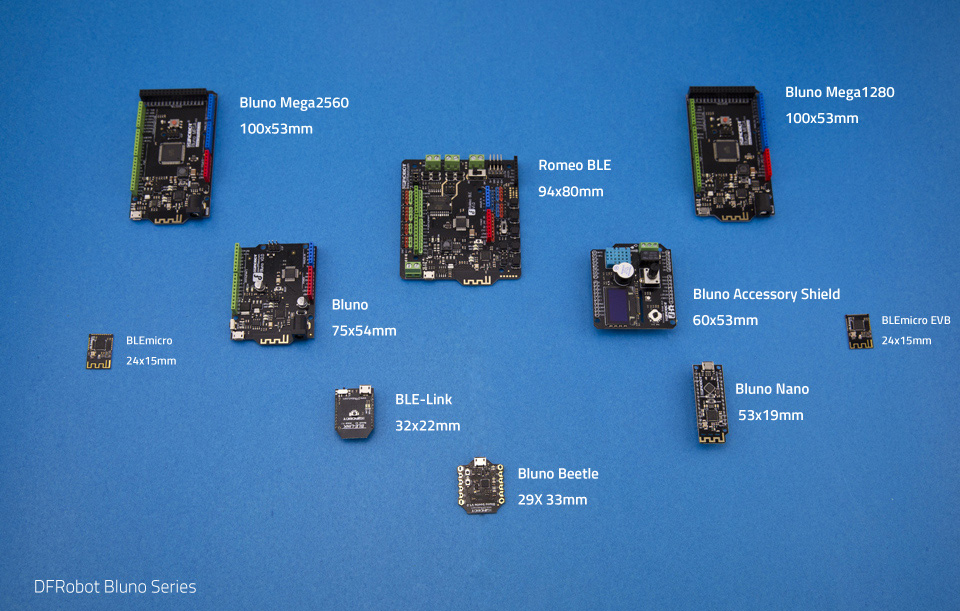 What is Bluno?
DFRobot Bluno series is an Arduino-compatible hardware solution for makers, educators. Its goal is to make Bluetooth 4.0 (BLE) easy to use.

All Bluno products are Bluetooth 4.0 ready, and enjoy features such as wireless transmission, master and slave settings, wireless programing, and Bluetooth HID connection with PC between devices.
Which One?
So far there are six controllers, three communication modules and one demo shield in the Bluno Series, including the newest Bluno Beetle. I'll explain one by one.
Main Controllers
Designed for aficionados of smart devices and wearables, Bluno board sports the same form-factor as the original Arduino Uno, except it includes a Bluetooth Low Energy module, the CC2540 SoC from Texas Instruments. Bluno is first of it kind in intergrating BT 4.0(BLE) module into Arduino Uno, making it an ideal prototyping platform for developers to go wireless.
Came in a size of a gum, the Bluno Nano is perfect for BLE projects with limited space or weight. Comparing with the Bluno, the Bluno Nano significantly reduces space and weight as a flexible main controller, without losing much performance. The latest generation of Bluno Nano has fixed the problem of weak signals and the new antenna supports up to 50m BLE communication between two Bluno Nanos.
Sometimes cool projects need more ports, and Mega is your answer. Bluno Mega 1280/2560 inherits the numerous ports and the abundant resources of Arduino Mega, and packs Bluetooth 4.0. With 54 digital I/O, 16 analog and 4 UART, and 16 MHz crystal oscillators, the Bluno Mega is trully the most powerful among its series.
Romeo BLE

(Released Oct 2014)
Search "Aruino Robot" and Romeo is the answer. This all-in-one microcontroller integrates 2 way DC motor driver and wireless socket onboard, allowing you to start your robot project immediatly.

With the BLE compatibility, Romeo BLE is extremly useful in robot fast prototyping with mobile devices. Also check the Turtle 2WD Kit, 4WD Mobile Kit and Cherokey Kit out, they have all been upgraded with Romeo BLE and supports iOS control.
The super compact, BLE-ready, maker-friendly newbie as introduced in the beginning.
Communication Modules
BLE Link

(Released Dec 2013)
BLE Link is a useful communication module based on BT 4.0, it is compatible with all shields with XBee socket. With two BLE Links, point-to-point wireless transparent transmission, master-slave machine setting, wireless programing and HID connection with PC are made possible. At the same time, users can not only debug Bluno through AT command, but also update BLE chip program via USB.
BLE micro

(Released Dec 2014)
Insert to play Bluetooth 4.0. BLE micro is so small that can be easily put on your PCB. A perfect add-on for small & wearable projects. With it, you will be able to use Andriod or IOS devices to communicate with your clothes!
BLE micro EVB can be used as the test board for BLE micro, as it allows users to use all I/Os on the CC2540 chip for debugging/testing. When used alone, it is more similar to the BLE Link.

For developers, BLE Micro can be used for transparent transmission, or remote programmer uploading, and even building an HID connection with PC. It can be configurated by AT command and users can also update its firmware by USB. Of course, it supports iBeacon. With the latest firmware version 1.8, users can switch the mode between AT command and transparent transmission by serial port.
Demo Shields
Specially designed for Bluno, this Accessory Shield forms an ideal prototyping platform for both software and hardware developers to go wireless with BLE technology. With its onboard seven functional modules (OLED screen; Buzzer; DHT11; Relay; Potentiometer; RGB LED; Joystick), this Accessory Shield is dedicated to aid interactions between Bluno and the physical world.
All right that's all for now. In the next blogpost I'd like to share with you some interesting Bluno projects, stay tuned.