We are in the midst of a single board computer revolution and the market is flooded with more and more new additions. Raspberry Pis, Orange Pis Banana Pis, BeagleBones, CubieBoards, Cubietrucks and many others besides have been around for some time.

Single board computers are targeted towards a range of user scenarios. A small, inexpensive board with a tiny footprint allows you to embed it in a narrow space, such as mobile robot, digital photo frame, or IoT application. Perhaps you want to use one for digital signage, or put it in an enclosure with some hard drives as a NAS/bittorrent/bitcoin server. Perhaps you have a projector and want to turn it in to a smart projector, or home media center. There are many applications for a single board computer, these are just a few.
Until now, all of these single board computers were limited to Linux and Android – and that's fine, lots of people like that – but what about users who want a Windows solution?
There are several advantages to a Windows solution: you are guaranteed driver and software compatibility for devices that you already use on your Windows PC. Also, there is zero learning curve if you have used Windows all your life and are intimidated by Linux and CLI. Furthermore, Windows software does not always have an adequate Linux port for it, so a device that runs Windows natively will save you time and effort having to Wineskin or VM your software across different platforms. Devices such as the LattePanda use this to their advantage.

LattePanda – Time to Take Action!
LattePanda was the first full Windows 10 SBC to hit the market. Although the Raspberry Pi 2 & 3 were able to run the Windows 10 IOT core edition of Windows, LattePanda was the first to ship with a full featured version of Windows 10 home edition pre-installed. What is more, it can also run Windows IoT core with the bonus of extra processing power over a Pi, owing to LattePanda's Intel Cherrytrail processor.

After a hugely successful Kickstarter campaign in March 2016, LattePanda has continued to be a popular item, and has been featured on popular YouTube channels such as Explaining Computers and EEV blog, who have been generally impressed with it. The community is generally friendly, positive, supportive and continues to grow as time goes on.

It is exciting to see this tiny Windows powerhouse enable makers, hobbyists and engineers flex their creative muscles and create innovative new applications every day.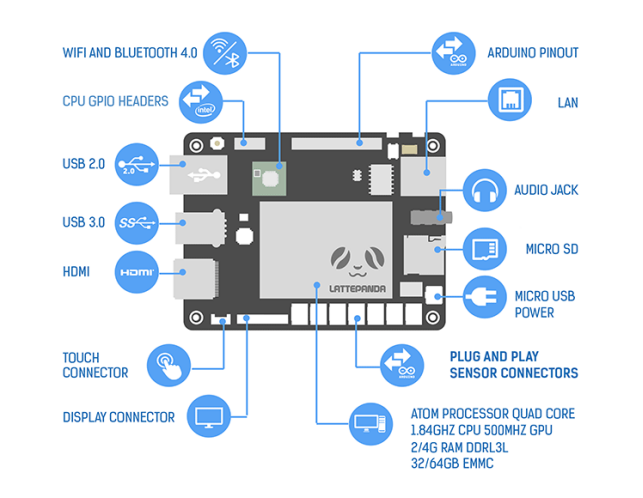 LattePanda ships with Windows 10 home edition pre-installed so no extra installation media is required. Currently there are two versions – LattePanda Standard (2GB RAM, 32GB eMMC, x86 Windows 10 Home Edition) and the LattePanda Enhanced (4Gb RAM, 64GB eMMC, x64 Windows 10 Home Edition). The LattePanda standard ships with an activated version of Windows 10 Home Edition with a hardware specific Windows license that will activate on its first boot.
You can also opt to buy it without a Windows key if you want to use an alternative operating system. As far as alternative operating systems go, it runs Ubuntu, Debian 8 Jessie, Arch Linux and Android x86.
In terms of specs the board packs an Intel "CherryTrail" SOC - Intel x8300, (recently revised to a x8350 in all new products). This runs at 1.44ghz with a turbo speed of 1.8ghz under load. Further features of the board include:
2 x USB 2.0
1 x USB 3.0
802.11n WiFi and Bluetooth 4.0 handled by a Reltek chip
2GB or 4GB DDR3L RAM (Standard and Enhanced versions respectively)
DSI display and touch connectors (with custom pinouts)
Standard HDMI out
10 x Intel SOC Addressable Pins
Integrated Atmega 32u4 (Arduino Leonardo)
24 Arduino Leonardo GPIO pins, with additional 3 pin Gravity interface connectors (including additional power and ground pins – a very useful feature)
RJ45 10/100 Ethernet
Micro SD support (suppo
rts cards up to 2TB)
Integrated Stereo Audio and Mic Jack
Micro USB power
Header Pin Power
Integrated RTC expansion header
FCC and ROHS Compliant across both versions
DC 5V in @ 2A (minimum)
91 x 70 x 17mm (h x w x d)
The board can be powered via a micro USB connector or via the CN2 pins on the board if you need a high current application. Powering via header pins allows you to create an adapter to power it, such as a barrel jack connector, or any other kind that you wish – this is my personal favourite way of powering this board.
You will need DC 5V and at least 2A for stable running. DFRobot, the main distributor of this board, also offer a starter kit that includes a 2A power adapter in your choice of US or EU standards, as well as a range of accessories.
The key idea behind this board is that it can run Windows, but also has an Arduino microcontroller integrated in to the board for physical computing applications, quite a cool feature in my view.
Optional upgrades include a 7" screen, capacitive touch overlay, a range of DFRobot's "Gravity" Interface sensors (ideal for physical computing applications) and heatsink and fan active cooling solution upgrades.
What's going down with UP?
The Up board has some nice features – it has a similar PCB footprint to the Raspberry Pi 2 & 3 in case you need to upgrade your embedded Pi project with more computing power. This footprint also includes the 40 pin GPIO bus that the Pi has, meaning it is compatible with a number of Pi hats.
The Up Board also includes an integrated barrel jack connector to deliver power.
However, it does not have built in Wifi or Bluetooth so if you need that you will have to sacrifice an available USB port for a wifi/bluetooth dongle.
It also doesn't have a micro SD card slot or audio or mic jack, so if you need these you will probably have to sacrifice more USB ports to fit them in to your application.
The base model of the Up Board has 2GB RAM and 16GB onboard storage.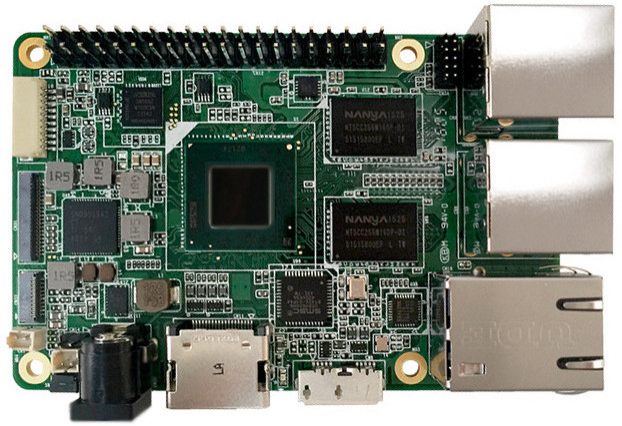 Full specs are as follows:
Operating Systems: The Up Board can run the latest version of ubuntu, android x86 and Windows 10
DSI / eDP
Intel® Atom™ x5-Z8350 Processor (2M Cache, up to 1.92 GHz) CPU with 64 bit architecture; Quad Core CPU
1GB/2GB/4GB DDR3L-1600
Intel® HD 400 Graphics ,12 EU GEN 8, up to 500MHz Support DX*11.1/12, Open GL*4.2, Open CL*1.2 OGL ES3.0, H.264, HEVC(decode), VP8
16GB / 32 GB / 64 GB eMMC
Full HDMI
CSI (4 Mega pixel)
1x Gb Ethernet RJ-45 (full speed over 1xPCI-e)
4x USB2.0 on connector ; 2x USB2.0 pin header (10 pins in total)
1 x USB 3.0 OTG (Can also be converted to USB 2.0)
Integrated RTC
40-pin GP-bus
5V DC-in
Microsoft Windows 10 • Linux • Android (compatible, not included in package)
85.60 mm × 56.5 mm
0~60°C operating temperature
10%~80%RH non-condensing operating humidity
CE/FCC Class A, RoHS complaint
The Intel processor on both of these boards does not ship without a cooling solution, although LattePanda offer a starter kit that does include these for a little extra. From my personal experience I found both of them much better with a cooling solution such as a heatsink, fan, or both. Without this solution they have been reported to throttle and lose performance, although personally I didn't experience this.

I ran a few benchmarks to compare the performance across both boards. Both boards were tested with an active cooling heatsink and fan solutions. Unfortunately I only had a 2GB LattePanda and a 4GB Up Board available, so I must stress that the tests are not that fair, but in spite of this the results are still relatively close.

Benchmark
LattePanda

Up Board
3DMark Skydiver
808

947
3DMark SkyGate
1464 1769
3DMark IceStorm Extreme
10525 12908



(Browser-based javascript benchmarking tools)
SunSpider1.0.2
452.7ms 590.2ms (lower is better)
Octane

7159 5979 (higher is better)


Conclusion
Both boards are worth considering, but personally I really like the LattePanda. Here's why:
LattePanda has integrated Bluetooth and WiFi on the board so I do not have to sacrifice USB ports for my application. On top of everything else it feels neater to me because of this.
The integrated SD card slot is a useful addition.
It includes audio out options for digital audio applications (such as guitar pedals – an application I am experimenting with).
In terms of community support, the LattePanda team takes user requests seriously and respects their loyal customers and Kickstarter backers. Especially on the forum – they are really responsive and competent. Tech support and aftersales service is also first class and swift.
The integrated Arduino Leonardo is a useful feature that I like a lot. I have used it to power LCDs, LEDs, and have experimented with a range of DFRobot's Gravity sensors which are directly compatible with LattePanda's 3 pin Gravity interface. What's cool about this interface also is that the pin design will prevent you from accidentally plugging in your sensors with the wrong polarity.
These are just my opinions, so I hope people who disagree wont tear me apart in the comments section, but I will say that I certainly think the LattePanda is a device worth checking out!